Montreal Canadiens Draft Prospect Profile: Ryan leonard
Welcome to another prospect profile here on A Winning Habit, where we learn more about some players the Canadiens could potentially select with the fifth overall pick in the 2023 NHL Entry Draft. This is the fifth edition, where we will be looking at prospect Ryan Leonard. You can find the first four prospect profiles here:
Leonard played on the top line for the United States National Team Development Program alongside Will Smith and Gabe Perreault, where he put up 94 points in 57 games. Leonard followed that up with a strong performance at the u18s, putting up 17 points in 7 games, helping his linemate, Smith, capture the tournament MVP and the gold medal. Leonard and Smith are committed to playing college hockey for Boston College next year.
Player Rundown
Team: United States National Team
Height/Weight: 5'11″/181 lbs
Position: Winger/Centre
Shoots: Right
DOB: Jan 21, 2005
Hometown: Amherst, MA, USA
Analysis & NHL Projection
Leonard is the closest thing to a Tkachuk brother you'll find in this draft. He's incredibly skilled with the puck on his stick and has a compete level second to none. He can stickhandle, pass the puck, and shoot it exceptionally well, but he's also a physical player. He's the kind of guy everyone hates to play against but would love to have on their team. Don't let his size fool you, he may be under six feet, but he packs a punch, and he will not be pushed around, not in the slightest.
Make no mistake, Leonard is a power forward but an incredibly skilled one, the kind that every team wants, but so few teams have. I believe he has NHL All-star potential and, paired alongside other skilled players, can possibly reach the 100-point plateau, as Matthew Tkachuk has done in each of the past two years. Many view him as a winger, but some have theorized he could play centre due to his inside-driven offensive game.
As you would expect from a potential top-10 pick, a lot of his skills translate well to the NHL. For instance, if Leonard was a guy that generated most of his offense from the perimeter, scouts would feel less confident about his ability to become a star in the NHL. Leonard has NHL calibre puck skills and a willingness to go to all areas of the ice. It's hard to pick apart many areas of Leonard's game, except for the lack of a truly elite skill, one that clearly stands above the majority of his peers. He's just a well-rounded, physical player.
Ryan Leonard Draft Projection
Leonard looks like he's pretty much guaranteed to land somewhere in the top ten, most likely in the five to ten range. For reference, Brady and Matthew Tkachuk, the players he's most often compared to, went in the top ten in their respective draft years. Matthew Tkachuk went 6th in 2016, and Brady went fourth in 2018. Teams have difficulty passing on players that play a physical style without sacrificing skill. He's certainly in the mix for the Canadiens at five, but I also like him for Philadelphia at seven; I think he'd fit in really well there.
Leonard's Fit With The Canadiens
Leonard to the Canadiens at five would be a pretty solid pick for a team that could certainly use his skill set. The Canadiens adding a talented player who can contribute offensively while also adding toughness and grit up front is not bad. Leonard joining the Atlantic, a division that already features the Tkachuk brothers and Brad Marchand, feels too perfect. The Canadiens could certainly do worse here than picking Leonard.
I still lean toward a few other names, like Zach Benson or the controversial Matvei Michkov, but I don't hate Leonard at five. Leonard adds speed, skill, and toughness to the fold, and turning that down is hard. The way I view it is between the three, Leonard is probably the safe pick, the guy with the highest floor, but he's also likely the guy with the lowest ceiling. For me, in this draft, I'd rather swing for the fences as opposed to hitting a double.
If the Canadiens end up with Leonard, it's by no means a bad pick, nor is it a guarantee that Benson or Michkov will become better players. At the end of the day, he'd fit in really well in Montreal and probably become a fan favourite very quickly. Guys who work their hardest every night become popular quickly in this city, and Leonard will undoubtedly be that. There won't be many games where you don't notice him on the ice, and that's certainly a plus.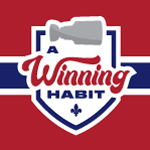 Want your voice heard? Join the A Winning Habit team!
Write for us!