Montreal Canadiens Draft Prospect Profile: Will Smith
Welcome to the first of many draft prospect profiles here on A Winning Habit. The idea is to learn more about many of the prospects the Canadiens could potentially select with the fifth overall pick in this year's NHL Entry Draft. Today, we'll be looking at Will Smith from the United States National Team Development Program.
Smith is coming off a great year in which he put up 127 points in 60 games this year, shooting up the draft rankings in the process. The centre is committed to play college hockey for Boston College next season, assuming he doesn't start in the NHL. Smith followed up his tremendous season with an incredible showing at the u18 tournament last April. He put up 20 points in just seven games, taking home the MVP trophy.
Player Rundown
Team: United States National Team
Height/Weight: 6'0″/172 lbs
Position: Centre
Shoots: RIght
DOB: Mar 17, 2005
Hometown: Lexington, MA, USA
Analysis & NHL Projection
Smith is an extremely effective playmaker, one that makes him an attractive option for a lot of teams. He's dynamic with the puck on his stick and is capable of producing high-end plays that lead to goals. Pair him with a sniper, and you've got a duo that will put up lots of points. On top of that, he has an excellent shot, scoring 51 goals in 60 games for the national team development program this year.
His skating is not the strength of his game, but it's good enough that it's not a significant concern. Where Smith will make his living comes from his elite hockey sense and playmaking ability. Despite his average skating, he's dynamic with the puck and can make virtually any play he needs to, which should translate well to the NHL.
Smith has all the makings of an NHL star, one capable of consistently hitting the point-per-game mark. If paired alongside other star talents, I'd even wager he can hit the century mark, as he's that skillful with the puck on his stick. Whichever team selects him is likely getting a number-one centre for the next decade, bar none, an excellent second-line centre.
Will Smith Draft Projection
When the season first started, Smith was viewed as a first-round pick, but his stock certainly soared as the year went on. Now it's looking like he'll hear his name called in the top five on June 28th, perhaps even top three. I'd be shocked if Smith makes it past five, and I can guarantee he won't make it past ten. Gifted centreman don't typically spend too much time waiting to hear their name called, and Smith will be no different.
Smith's Fit With The Canadiens
There is no sugarcoating it, Will Smith would fit in very nicely with the Canadiens. Not only do the Canadiens need more offense, but they could use more high-end talent down the middle. A one-two punch with Smith and Suzuki, two dynamic playmakers, is a desirable future. I think if the Boston College commit joins the Habs, he becomes one of the most gifted forwards Montreal has seen in 30+ years.
And perhaps most notably, Smith and Habs General Manager Kent Hughes go way back, with Hughes coaching the centreman in minor hockey. It's hard to ignore that connection, and while I think Hughes is going to do his homework on all prospects, I have to imagine if Smith is there at five, the Habs would select him, and it would be a great choice.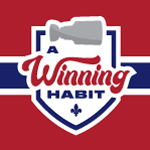 Want your voice heard? Join the A Winning Habit team!
Write for us!
Quick Disclaimer: As you may have noticed, the comment section no longer exists, unfortunately. Hopefully, it will make its return in some capacity soon because I love hearing your opinions on these topics. So, If you want to continue to share your opinion because I'd love to hear it, you can use the comments on our Facebook Page linked here. We post every article there, and we'd love to continue to let your voice be heard. Hope to see you there!