Canadiens: Okay, Let's Talk About Matvei Michkov
Matvei Michkov is one of the best players in this year's NHL Entry Draft, but he's also the biggest wildcard. On talent alone, he's a top-five pick, perhaps even top-three, but unlike any other player in this draft, there's a huge cloud of doubt hanging over his head, one that he has virtually no control over. And it may just cause him to fall at the draft. How far, we don't know yet.
For those that don't know the story, Michkov is a Russian player currently playing for SKA St. Petersburg in the KHL. He's under contract with them until the end of the 2025-26 season, meaning he can't come over to the NHL until 2026-27, a season in which he would turn 22 in December. That, and the current geopolitical state of Russia, could scare off teams from drafting him on June 28th. Unfortunately for the Canadiens at pick number five, they're right in the middle of that mess.
Before we begin the discussion surrounding Michkov, I feel it's important to mention that I am very much in favour of drafting him at five. However, I can still admit it's a bit of a gamble taking Michkov; I just believe the reward is very much worth the risk. I'd even wager that there are other prospects that come with a risk as well, albeit for very different reasons.
Matvei Michkov –  The Risks
I think a lot of the question marks surrounding Michkov are largely out of his control, which seems unfair. As far as we know, there is no character concerns with Michkov like there were with Logan Mailloux when the Canadiens drafted him 31st overall. Much of it surrounds his contract and, perhaps more significantly, the ongoing war between Russia and Ukraine and the overall political landscape of Russia.
Because of that ongoing conflict, it's been hard for scouts to actually see Michkov and other Russian players live and in person, the preferred way to scout a player. Russia and Belarus have been barred from international competitions, as well as the NHL combine. This has made it very difficult for NHL scouts to fully evaluate these players. The same cannot be said for other prospects, which, fair or not, has given them a leg up on their Russian counterparts. Michkov might be better than a lot of players in this draft, but for many teams, the decision between a known commodity, and a wild card, no matter the potential, might not end well for him.
And, of course, the other concern stems from Michkov's contract, which keeps him in Russia, without exception, for three seasons after the draft. This means, in crucial development years, whoever drafts Michkov will likely be unable to work with him on areas of his game, instead hoping that his Russian club will do it, which is no guarantee. That is going to be a tough sell for many teams, as I'm sure the thought process is that the KHL club won't have an NHL team's best interests in mind. Not to mention, in the Canadiens' case, can they wait three years for a player they drafted fifth overall to arrive?
Lastly, there seems to be concern over Michkov's size, both in height and weight. He's listed at 5'10", but many seem to think he's listed an inch taller than he really is. And Michkov is, right now, just 148 lbs, which is incredibly small. Can he hold up in the NHL at size? Seeing how Cole Caufield fell to the Canadiens at 15, it wouldn't shock me to see other NHL teams pass on Michkov, for a multitude of reasons, with size also being a factor.
There is some risk with any prospect; there is no guarantee they pan out. But with Michkov, there is more than enough risk to scare off a few teams, more so than the average prospect. The sad truth is almost all of it seems to be out of his control, and it seems unfair to hold it against him, but at the same time, teams need to make these picks count. You can't expect teams to overlook this simply because it's not his fault.
Matvei Michkov – The Superstar
I want to talk about the things "holding Michkov back" a little further because while they may not be ideal, I also think they are being too focused on. Michkov has all the makings of a superstar, the kind of player that is franchise-altering. He's been dubbed the best Russian prospect since Ovechkin and, at one point, was being compared with Bedard as the two best players in the draft. The consensus amongst everyone is that Michkov is a star, one that every single team could use. So with that being the case, should the lack of live viewings matter that much? Perhaps between the other top five prospects, yes, but after that, I'm not so sure.
Michkov is coming off a season where, on the worst team in the KHL, he put up the most points per game for a draft-eligible player in KHL history. Need I remind you, the KHL is a league filled with men, not fellow junior players, and his slight frame didn't hold him back there.  His play speaks for itself, really, he's been looked upon as a star for a long time now, and he's passed every major test. Assuming the other top five prospects go one through four, he'll be there at five, with no one else as good as him available. The Canadiens are desperate for a superstar. Do they dare look a gift horse in the mouth and say neigh (sorry, I had to)?
The other concern about his development is… valid but also a little misguided, in my opinion. Yes, it's true that Michkov would not be able to play elsewhere, regardless of what his NHL team would want, but I don't buy the idea he can't develop in the KHL. Did you know that Michkov did not play many games for SKA St. Petersburg this year? That's because the club couldn't find a spot for him, so they originally sent him down to the VHL (sort of like the AHL to the NHL). Down there, he put up 14 points in 14 games, proving he required a larger challenge. So SKA St. Petersburg loaned him to another KHL team, HK Sochi, where he finished the year.
Over the next three years, I bet Michkov will continue to grow as a player, and he will earn more ice time. SKA St. Petersburg wants to win the Gagarin Cup (KHL's Stanley Cup), and if they think Michkov can help them do that, he'll play, and he'll play a lot. There is a precedence of NHL players that played in the KHL for quite some time before they came over to the NHL. This includes Artemi Panarin, who also played for SKA St. Petersburg before joining the NHL.
Panarin, Kirill Kaprizov, and Evgeny Kuznetsov developed in the KHL for quite some time, allowing for an easier transition to the NHL than most young players. Capable hockey players almost always leave Russia to come to the NHL. A more recent example, one that might've been affected by the war? How about Washington Capitals 2022 first-rounder Ivan Miroshnichenko, who just signed his ELC with the Capitals last month. I feel confident saying you can be sure that Michkov intends to do the same when he can.
And yes, waiting three years sucks, but keep in mind most prospects take time to develop anyways. Chances are, in the Canadiens' case, whoever they pick at five won't be a star within three years if they're even in the NHL by that point. There's a very good chance the best player picked after five in three years would be Michkov, anyways. Just ask Minnesota Wild fans if Kparizov was worth the wait. I'm sure you'll get a resounding yes.
Listen, no crystal ball will tell us exactly how Michkov will pan out in the NHL, but a lot of the concerns over him seem to be overblown. If he wasn't Russian, I doubt the Canadiens even have a chance to draft him. Kent Hughes isn't reading this, but it still felt good to write, if for no other reason than to make my case for drafting him. Don't let the concerns fool you, Michkov is the best player available at five, and nothing about the political state in Russia changes that.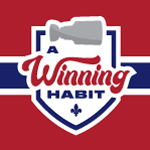 Want your voice heard? Join the A Winning Habit team!
Write for us!