Canadiens: Zach Fucale NHL Debut Well Worth The Wait
Zach Fucale has finally made it to the show. More than eight years after being taken with the 36th overall pick by the Montreal Canadiens in the 2013 NHL Draft, the former Halifax Mooseheads standout turned aside all 21 shots he faced, becoming the first goalie in Washington Capitals history to pick up a shutout in his NHL debut.
The 2021-22 NHL season has already seen it's fair share of surprises and feel-good stories, but, in my mind, few rank higher than Fucale's. For Canadiens fans of a certain age, Fucale's name might ring a few bells, with the Laval native having once been seen as the future of the Canadiens crease after a star-studded career in junior. In his four-year stint in the QMJHL with the Mooseheads, Fucale picked up a Memorial Cup title and World Junior Championships gold, establishing a winning reputation that left many Habs fans excited for the future.
Yet, after a shaky over-ager season that saw him rebound in leading the Quebec Remparts to another finals appearance, Fucale struggled out of the gate with the AHL's St. John's IceCaps, and things unfortunately never quite improved in his time in Montreal. After posting a below average 16-19-4 record and 3.13 GAA over 43 games, Fucale has since played just 43 games total in the AHL over the past six seasons.
After losing the confidence of head coach Sylvain Lefebvre in St. John's and later Laval with the Rocket, Fucale quickly found himself as a regular in the ECHL with the Brampton Beast, where he showcased a bit more of his starting potential, leading the Beast to a playoff appearance in 2016-17 with a 25-12-2 record and four shutouts. As fate would have it though, the ECHL would be the place Fucale has called home for much of the past six seasons, up until his current stint, in Washington.
After playing off a one-year deal with the Vegas Golden Knights in 2018-19, Fucale was only able to secure an AHL deal with the Syracuse Crunch in 2019-20, eventually opting out of said contract to sign with EHC Red Bull Munchen of the DEL. Despite never seeing game action due to injury and the eventual Covid-19 Pandemic, those who were aware of it thought this would be the last we would see of Fucale in North America.
More than eight years after being taken in the second round of the 2013 NHL Draft by the Canadiens, Zach Fucale has picked up a shutout in his NHL debut.
While I had followed him for much of the 2015-16 season, especially after former IceCaps starter Eddie Pasquale took over starting duties as Fucale struggled to find his form, my occasional check ins on the once top prospect left me with the impression that he simply couldn't put it all together at the professional level. Yet, as has been the case with many a few players over the past few seasons, the Covid-19 Pandemic offered up opportunities to a few unknown faces when teams' were in need of extra support. Case in point, Fucale.
After signing a one-year deal for league minimum with the Capitals last season, Fucale was given his first chance to see regular AHL minutes since his rookie season in St. John's, forming a solid partnership with long-time Hershey Bears starter Pheonix Copley. In nine games with the Bears in 2020-21, Fucale shone and shone brightly, posting a 9-2-0 record with a 1.80 GAA and a .932 SVP. After being re-signed to a two-year deal by the Capitals this past off-season, Fucale continued to shine in his first five games in Hershey this season, leading to his long-awaited, and rather unexpected, NHL debut.
To say Fucale's chances of making the NHL were slim prior to 2020-21 would be a gross understatement. While he had done what he could in past stints with the Rocket and IceCaps as their records plummeted, his numbers always left something to be desired, and it was apparent he wasn't fully confident in goal. While he had managed to find his groove as one of the few consistent starting options in the ECHL, Fucale made it aware that wasn't where he wanted his future to be.
Yet, as has been the case with many goaltenders these past seasons, the opportunities that have been offered due to the extra need for depth have been taken and run with, with former career minor leaguers like Connor Ingram and Dustin Tokarski seeing starting minutes, and free-agent additions like Sergei Bobrovsky and Jacob Markstrom finally playing up to their lengthy contracts. Whilst the NHL has had to overcome numerous hurdles related to both the Pandemic and other external issues (that don't need explanation), there have been similarly been more opportunities for former career minor leaguers a la WW2 NHL.
With starter Vitek Vanecek out for the foreseeable future after an injury suffered during a net-front collision, there's a chance Fucale could continue to see ice-time as Ilya Samsonov continues to have consistency issues. In either case though, it's been a pretty remarkable story for this once-future of the Canadiens crease, and on the other side of the border in the nation's capital, Zach Fucale seems to have, at long last, found a place to call home, in the NHL.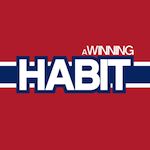 Want your voice heard? Join theA Winning Habit team!
Write for us!