Montreal Canadiens: Jake Evans Role Could be Facilitated by Habs Veteran Depth
Montreal Canadiens forward Jake Evans will be playing an important role.
The Montreal Canadiens selected Jake Evans 207th in the 7th round of the 2014 NHL Entry Draft. After an impressive four seasons with Notre Dame in the NCAA, the centre earned an entry-level contract with the Habs.
Since then, he has been a welcome surprise in the organization.
In his first season with the Rocket, Evans finished second in scoring in Laval with 45 points (13 goals, 32 assists). In his second season, Evans went on to record 38 points (14, 24 assists) in 54 games played. In this span, Evans was utilized as the Laval Rocket's top centreman in a multitude of situations at both even strength and special teams units.
An important part of Evans' success in Laval could be credited to head coach Joel Bouchard. It was evident early into his first year of professional hockey that Evans had earned the trust of his head coach, as can be seen in the roles he was assigned.
In February, Jake Evans was called up to the Montreal Canadiens where he would record two goals and an assist in 13 games played.
Solidifying the Fourth Line
With just over a week remaining until the 2020-21 season begins, Jake Evans is set to play an important role for the Montreal Canadiens. A position initially filled by Nate Thompson, Evans is likely to be the Canadiens fourth line centre moving forward. This should come as no surprise as the team began utilizing him in this role following the Thompson trade.
There is no question that in his two years in the AHL and with the Montreal Canadiens that Jake Evans has proven he possesses the skill set of a top-9 forward. While Evans was useful in his new role, this will be a shortened 56-game season in what is likely to be a very competitive All-Canadian division. Likewise, if Evans were to replace Nate Thompson, he could be assigned tough assignments that could hinder his development if not managed properly.
The fourth line centre is often assigned penalty killing minutes, key defensive zone faceoffs and the task of tiring out the opposition. This could wind up being burdensome for a rookie centreman with less than 20 games played in the NHL. As a result, it follows that the Montreal Canadiens coaching staff could quickly make use of their most recent signings.
Potential to Make an Impact Early On
Stanley Cup wins with the Chicago Blackhawks and Anaheim Ducks respectively, Michael Frolik and Corey Perry bring an abundance of experience to the Montreal Canadiens lineup.
For a young forward looking to hone his defensive capabilities, Michael Frolik could serve as a mentor to Jake Evans in more ways than one. An effective asset on the penalty-kill, Frolik had played 500 minutes while shorthanded in the past four seasons at the time of his trade to the Buffalo Sabres in January.
Per the Athletic's Joe Yerdon, Frolik was on the on ice for 787 shot attempts against and 427 shots on goal against. In his worst year (2016-17), Frolik was on the ice for 16 power-play goals against in 169 minutes played on the PK.
While Michael Frolik could support Jake Evans in terms of the PK unit, Corey Perry could play an important role at even strength.  As Evans is not the most physical of players, Perry's inclusion in the lineup will introduce an element of sandpaper and physicality that should balance out the fourth line. Perry could also be relied upon to rile up and tire out his opponents, drawing attention away from Evans.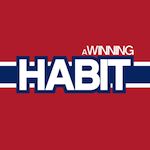 Want your voice heard? Join the A Winning Habit team!
Write for us!
There is the possibility neither of Michael Frolik and Corey Perry play on opening night against the Toronto Maple Leafs. Both players have spoken about how they will need to play their way into the lineup. This makes it possible that we see Evans play alongside forwards Paul Byron or Joel Armia but there still remains the question as to how the Montreal Canadiens become cap compliant.