Montreal Canadiens: Alexander Romanov Will Help Ease Heavy Burden On Habs Veteran Defence
The Montreal Canadiens announced yesterday that they have signed prized prospect Alexander Romanov to an entry-level contract. He will help spread out the minutes on the Habs blue line.
The Montreal Canadiens biggest weakness for many years was their depth down the middle of the ice. With the addition of Max Domi, Nick Suzuki and Phillip Danault as well as drafting Jesperi Kotkaniemi, Ryan Poehling and Jake Evans, their centre ice depth is turning into a strength.
The glaring weakness that stands out over the past couple of years is the left side of their defence. Letting Andrei Markov, Alexei Emelin, Mikhail Sergachev and Alexei Emelin all leave in the same offseason while trying to replace them with Mark Streit, Karl Alzner, David Schlemko and Jordie Benn didn't really work out.
It resulted in the team leaning too heavily on the few reliable left defensemen they have in the past few seasons. Benn was asked to be a top pairing defender on many nights before leaving as a free agent. Victor Mete was a slight teenager when he stepped into the top four for the first time. Brett Kulak has routinely lined up next to Jeff Petry or Shea Weber.
This season, the Habs had newly signed Ben Chiarot at their disposal. They made sure to get their money's worth out of him this season by playing him more than he ever played in his career. Chiarot performed well for the Habs, better than expected, but no one could have predicted he would average 23:08 per game. He averaged the 30th most minutes of any player in the league, and that was with very little time on the power play.
Chiarot played well for the Habs, but asking him to play more minutes than players like Aaron Ekblad, Oliver Ekman-Larsson and Josh Morrissey is not putting the 29 year old in the best position to succeed.
However, the Habs didn't have much choice. Their depth on the left side behind Chiarot was just not trustworthy enough to take the heavy burden off Chiarot's shoulders. Kulak played well with Petry in the past, but he wasn't up to the task early this season fresh off signing a three-year contract extension. Mete had some ups and downs but wasn't consistent enough to be on the top pairing with Weber for extended periods of time and Mike Reilly was shuttled out of town due to poor defensive play.
The Canadiens brought in Marco Scandella for a few weeks and he helped play some big minutes so that Chiarot wasn't the only left defenceman that could be trusted to approach the 20 minute mark every night. However, with the team out of the playoff race and Scandella a pending free agent, he was wisely moved before the trade deadline for second and fourth round draft picks.
Chiarot wasn't the only veteran on the Habs blue line playing heavy minutes. Shea Weber, the 34 year old captain of the team, averaged exactly 24 minutes per night which put him 16th on the league leaders list. Jeff Petry was not far behind, playing 23:39 per game which is 21st on the time on ice leaderboard. That gives the Habs three defencemen in the top 30 in league ice time.
You can get away with that in a playoff run if you have Scott Niedermayer, Scott Stevens and Brian Rafalski like the 2003 New Jersey Devils. Or Ray Bourque, Rob Blake and Adam Foote with the Colorado Avalanche in 2001. But to try and do it for a full 82 game regular season? It doesn't work.
Enter Alexander Romanov. The 20 year old left defenceman has been developing rapidly since the Habs made him a second round pick in 2018. He was arguably the best defenceman at each of the last two World Juniors with his impressive two-way game proving dominant against his peers.
It is pretty rare you see a teenaged defenceman make a KHL roster full time, but Romanov played cracked the deep and talented CSKA Moscow team as an 18 year old. He plays a smart defensive game and showed numerous times he can time a hit at the defensive blue line as well as anyone. His point totals won't jump off the page, but Romanov is a smooth skater who piled up 14 points in 14 games at the World Juniors over the past two years.
His defensive awareness and gap control will allow Romanov to play regular minutes at the NHL level next season. While Mete's physicality and defensive play are called into question, and Kulak's inconsistency holds him back, Romanov will at the very least be a steady and reliable defensive player that the Habs will be able to count on.
This will not only help because it adds depth to the Habs left defence which is their biggest weakness, but it will also take a burden off their three top defencemen. Chiarot was better than expected for the Habs this season, but playing over 23 minutes per night might be a bit much to ask. Taking a minute per night from him and some time from Weber's defensive responsibilities and giving them to Romanov will make them all more effective throughout a long season.
Take Weber for example. He started the year on fire, scoring 30 points in 37 games before Christmas. He was a force at both ends of the ice, and was leading the team in ice time. Since then? He has continued to be effective defensively, though maybe not quite as effective as he was in November, and his offence has dried up. Since then, he has just six points in 28 games.
Maybe Weber's days of averaging 24 minutes of ice time should be behind him. Maybe leaning on him to shut down the other teams best players every night and kill every penalty and defend ever lead like its Game 7 isn't going to work anymore. It would be better to spread the defensive responsibilities out a bit more.
Well, the Habs will be more able to do that next season. Instead of Weber taking a shift with Chiarot and then sneaking back out for a quick shift with Reilly or Mete while elating by a goal in the third period, the Habs will be able to trust Romanov and Cale Fleury to take a shift with five minutes left. Instead of the third pairing being stapled to the bench, they can now be trusted more.
With Romanov providing that extra depth on the left side, it will help all of the veteran defencemen play a little less and be more effective when they are on the ice. It is a long, gruelling season and as we saw with the Habs this season, teams need to be very deep to be good for six months.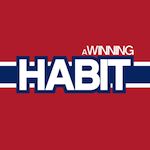 Want your voice heard? Join the A Winning Habit team!
Write for us!
With the assurance that Romanov will be in the Habs lineup next season, the Canadiens are a deeper team. Not only is he an upgrade on what Kulak, Xavier Ouellet and Reilly brought this season, he will help ease the extraordinary burden that Chiarot, Weber and Petry were asked to handle this season.