Montreal Canadiens – Kaiden Guhle Rookie Report Card
Kaiden Guhle's rookie season was unfortunately short-lived, not because of his play but rather injuries. When he was on the ice, he showed flashes of brilliance, proving he can be an effective player at the NHL level. Of course, he wasn't perfect, but what rookie is? What Guhle did show was the ability to play a 200-foot game as a defenseman, the kind of player who is vital for any cup-winning team. I'd say there was far more good than bad with Guhle, but he's still early in his development. He can be even better.
And that brings us to another edition of the "Rookie Report Card," a little series we've done here on A Winning Habit to highlight the performances of each of the Habs rookies. We'll look at the good parts of their game and the areas that need improvements before giving them a final grade that's based on performance relative to expectations. This season, the Canadiens had an abnormally large amount of rookie players, so we still have plenty of players to cover. You can read the previous three editions here:
Expectations were somewhat high for Guhle as a former first-round pick who had played exceptionally well in the WHL before making the team this year. And he followed that up with a really strong pre-season, leaving no doubt he deserved a spot on the opening night roster. I don't think the expectations were unreasonable or unfair, just lofty. Fans had heard so many good things about Guhle, and they wanted to see it for themselves. I'd like to think he met and perhaps even exceeded those expectations.
Kaiden Guhle – The Good News
There's a lot to like about Kaiden Guhle's game this season. He was asked to do a lot despite having no prior experience in the NHL and, for the most part, didn't look out of place. Almost every night, Guhle logged heavy minutes, usually against the other teams' top lines. That's impressive for any young player, but even more so for a 20 (Now 21) year-old rookie. It's a great sign of what he's capable of, even if he has a ways to go on the development front.
Unlike Jordan Harris, Guhle plays a much more noticeable style, one that stands out in the good performances and the bad. Luckily for him and the Canadiens, there were more good performances than bad. An area of concern for Guhle prior to arriving in the NHL was his plays with the puck under pressure, but he seemingly squashed those concerns all season long, using both his hands and skating ability to make smart plays with the puck.
Defensively, Guhle held up well despite tough matchups, oftentimes paired up with a teammate not equipped to handle that. I can't stress this enough, Guhle, particularly early in the season without Mike Matheson, logged heavy minutes against the opponent's top lines. This includes Toronto, Colorado, and Pittsburgh. And he was typically paired with either David Savard or Joel Edmundson, two guys that can be effective but much less so in top pairing roles. Still, Guhle looked solid, convincing many Canadiens fans he has the chops of a number one defenseman.
Offensively, Guhle put up 18 points in 44 games, a 33-point pace across an 82-game season. That's solid production for a rookie, but I think Guhle can stand to improve on that as well. When he did jump into the offence, he made great plays showing off excellent puck-handling skills and a blistering shot. At the time he was drafted, there were questions about his offensive capability at the next level, but he's all but squashed those concerns. This play versus Tampa to set up a Nick Suzuki goal showcases his offensive capabilities well.
All in all, the positives were really solid for Guhle in year one. And yet, I don't think he's even scratched the surface of what he can be. He's good in a lot of areas, but I wouldn't say he's mastered anything yet.  Despite playing well, he has a lot of development to do, and he'll only get better the more he plays and works with skills coach Adam Nicholas. Canadiens fans should be excited about what he brings to the table, but more importantly, what he still can be.
Kaiden Guhle – The Bad News
Guhle showed flashes offensively but often played a little conservatively, perhaps a symptom of getting his feet wet at this level. Going forward, I'd like to see Guhle take more chances to join the offence, trusting that his defensive partner will cover for him. This is especially true when paired alongside Joel Edmundson or David Savard, two players who typically don't get involved in the offence themselves.
When he did get involved, good things often happened. It's not a coincidence that most, if not all of his best games from this past season were the games in which he was active in the offensive zone. If I was the Canadiens coaching staff, I'm strongly encouraging him to do more of that. Lord knows the Canadiens could use more offence.
The other area in which Guhle struggled was on the penalty kill. He was used a lot there, and it wasn't great, as was the case for most of the Canadiens' defensemen. Compared to an elite penalty-killing team like the Carolina Hurricanes, the numbers are night and day. On a per 60 basis, meaning both teams were to play an entire game short-handed, the Canadiens would give up almost three times as many goals based on GA/60. The Habs give up a ton of scoring chances down a man, more than you would reasonably expect, and unfortunately, Guhle plays a big part in that. I don't suspect the Canadiens will use him less in those scenarios, so he'll need to improve there.
Kaiden Guhle – The Bottom Line
There is no doubt that Kaiden Guhle earned and received a lot of praise this season. He was phenomenal when he was on the ice. The tools are there, as is the IQ, so it should be only up from here. And I'm glad he performed well because the expectations surrounding Guhle were somewhat high, especially in comparison to the other defensemen on the blue line. He showed out and quickly proved he has the makeup of a really high-calibre defenseman.
I'm not sure he's a number one, but he appears to have top pairing potential as a tremendous number two guy. For the Canadiens to get that in Guhle, with other prospects in the pipeline to round out the rest of the blue line, is fantastic. Carolina has shown that you don't need a Norris-calibre number-one guy if you have a deep, well-rounded blue line. If Guhle can be a Jacob Slavin type of talent, that's huge for the Habs.
KAIDEN GUHLE
LHD,
Montreal Canadiens
A-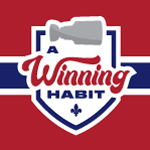 Want your voice heard? Join the A Winning Habit team!
Write for us!