Montreal Canadiens: Sorting Out Goaltending Logjam With Laval Rocket
The Montreal Canadiens know who their starting goaltender will be next season. They have three other goaltenders in the organization but none seem ready for NHL backup duty.
The Montreal Canadiens will have lots of chances to upgrade their roster in the offseason through free agency, the NHL Draft and trades. They should be on the lookout for top pairing left defensemen and goal scorers, especially ones who can help on the power play.
One position they know they don't need to change is their starting goaltender. Carey Price will be the team's number one option in goal for the foreseeable future.
What they will need to sort out is all of the other goaltenders they have signed behind Price. Charlie Lindgren will be in the final year of his contract that pays him $750,000. Cayden Primeau will be in the second year of his entry-level contract and Michael McNiven is slated to be a restricted free agent, but those players are easily retained if the team wants to keep them.
The problem with these three goaltenders is, none of them appear ready and able to be the Canadiens backup next season. That means all three belong at the American Hockey League level, which led to an awkward year for them this season. Having three goaltenders on one team at any level of hockey just doesn't work.
In order to find starts for all of them, while Keith Kinkaid was backing up Price, McNiven was loaned out to three different ECHL teams. The Canadiens don't have their own ECHL affiliate, so it became quite the chore to find somewhere for McNiven to play.
The 22 year old played great for the Adirondack Thunder and Jacksonville Icemen, but didn't have the best numbers while playing for the Norfolk Admirals. It certainly didn't help that they are at the bottom of the league standings and allowed more than four goals per game as a team all season.
When the Habs finally loaned Kinkaid out to the Charlotte Checkers and brought Lindgren up to be Price's backup, McNiven played well for the Rocket. He only had three starts before the league paused its schedule, but he won all three games and had a very respectable 2.33 goals against average and a .919 save percentage.
While McNiven was with the Rocket, Lindgren was given an audition as Price's backup at the NHL level. He played six games for the Habs this season, went 2-4-0 with a 3.33 GAA and a .888 SV%. He had a 2.67 GAA and a .893 SV% in 16 games with the Rocket before being called up.
It would appear Lindgren isn't suited to be an NHL backup. He is 26 years old and has been in the organization for four seasons. If he was going to be prepared for NHL duty, that time should have come by now.
Primeau has the brightest future of the three. He was the top goaltender in college hockey last season and at just 20 years of age emerged as the best option for the Laval Rocket crease. It took some time, but when he was finally given the number one role, he excelled.
In his last eight starts before this break, Primeau had a 1.63 GAA and .938 SV%. He was helping the team stay in the playoff race in the AHL's North Division and was clearly at his best when he was playing more often. At his age, he should be playing often, and shouldn't be relegated to backing up Price – at least not yet.
It seems obvious at this point that Price will be the starting goaltender for the Canadiens and Primeau will be the number one option for the Rocket. But with Lindgren and McNiven still in the organization next season, and neither capable of being Price's backup, what should the team do to sort this situation out?
Well, the most important thing to do is find a better backup for Price. He is getting older and just isn't capable of playing 70 games in a season like he did when he was 24 or 25. He needs someone who is experienced at handling 30 or so games to be his backup. The Habs need to prioritize finding someone from outside the organization to handle this role next season.
With Primeau being the right candidate to be the starter in Laval, the team would only need, or want, one of Lindgren or McNiven to remain in the organization next season.
At this point, I think we can safely come to the conclusion that Lindgren does not have an NHL future. He is not old at 26, but old enough that we know what to expect from him next season. McNiven on the other hand, we can't say as confidently what his ceiling is right now.
Last season, he had a 2.52 GAA and a .902 SV% with the Rocket in 30 games. He clearly outperformed Lindgren, and was just 21 years old. This season has been a bit of a write-off for McNiven as he bounced around various ECHL teams, but he played well in the few games he actually got to play with the Rocket.
Giving McNiven another chance next season to show he can be even better than he was last season would be the best option for the Canadiens going forward. McNiven has far more potential to become a valuable player for the team in the future than Lindgren does at this point in their careers.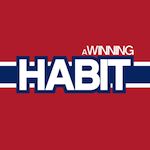 Want your voice heard? Join the A Winning Habit team!
Write for us!
This would mean it is time to try to find another home for Lindgren. The Habs already have 14 picks at the upcoming NHL Draft. Primeau was a 7th round pick not long ago, trading Lindgren for another 7th rounder would be the best decision for the Laval Rocket goaltending situation heading into next season.