Montreal Canadiens Prospect Brett Stapley Playing Huge Role For NCAA Championship Contender
The Montreal Canadiens drafted Brett Stapley in the 7th round. He is following in Jake Evans footsteps and playing a huge role for a national college hockey contender in Denver.
The Montreal Canadiens drafted Jake Evans in the 7th round of the 2014 NHL Draft. He had scored 63 points in 49 games while playing Junior A hockey in Ontario before being drafted. He was playing that level to preserve his college hockey eligibility, which he would have lost had he playing in the Ontario Hockey League.
Evans went on to Notre Dame after being drafted and had a terrific collegiate career. He started slowly, with 17 points in 41 games as a freshman, but quickly blossomed into a dangerous two-way threat for the Fighting Irish. Over his final three seasons, Evans increased his point total from 33 to 42 and then to 46. He scored 121 points in 117 games over those three years.
Evans finally signed an entry-level contract with the Montreal Canadiens in 2018 after graduating from Notre Dame. Last season was an impressive first pro campaign as Evans finished second on the Laval Rocket in scoring with 45 points in 67 games.
The 23 year old forward has the versatility to play centre or the wing and was called up to make his NHL debut earlier this season when the Habs were battling injuries. He impressed, playing well in a depth, fourth line role but did score his first NHL goal against the Arizona Coyotes. He played well enough that he would be on the short list to be back in Montreal if the Habs decide to sell a few forwards before tomorrow's trade deadline.
Just a few weeks after Evans signed with the Habs, the Canadiens made another 7th round draft choice that appears to be following in Evans footsteps.
Brett Stapley was playing Junior A hockey in British Columbia when he caught the attention of the Canadiens scouting staff. He scored 59 points in 52 games that season for the Vernon Vipers of the BCHL, enough for the Habs to take him with the 190th selection in the 2018 NHL Draft.
His freshman season with the Denver Pioneers went a little better than Evans first year in Notre Dame. Stapley had 19 points in 32 games, often playing in either a second or third line role.
This year, Stapley's responsibilities have been increased with Denver. He is usually the team's second line center and is used on both special teams units. He plays down the middle and does a great job at both ends of the ice.
The 5'10 and 177 pound center is third on the nation's sixth ranked team in points with 26 in 31 games played. He had a bit of a cold streak leading up to the Christmas break where he had just two points in nine games, but he has been on fire since the team returned in the new year.
Denver is in a tight NCHC with teams like North Dakota who are ranked number one and Minnesota-Duluth who are ranked fifth in the country. However, thanks to some strong play from Stapley the past two months, they have been keeping pace with all of the top teams in college hockey.
Stapley has 15 points in 14 games since the Pioneers returned to action in 2020. The team is benefiting greatly from his strong two-way play and special teams work. Stapley turns 21 today and had a heck of a weekend, scoring five points in two big wins over Miami-Ohio.
The Pioneers have four more regular season games remaining and will then head to the NCHC playoffs. As a team ranked inside the top ten the whole season, they will have high hopes in their conference playoffs and then in the Frozen Four playoffs as well.
With Stapley providing a major role for them, Denver will be a legit contender for the national championships. The Pioneers lost in the national semi-finals in overtime last year and will be looking to go even further this April.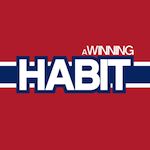 Want your voice heard? Join the A Winning Habit team!
Write for us!
If Stapley continues to follow in Jake Evans footsteps, he could be knocking on the door for a roster spot in Montreal in a couple years.