Montreal Canadiens: Is Charles Hudon Earning Another NHL Opportunity?
The Montreal Canadiens have given Charles Hudon several looks at the NHL level. Is his recent play with the Laval Rocket making him worthy of another chance?
The Montreal Canadiens season is going down the drain in a hurry. For the second time in their past 26 games, they are on an eight game losing streak. They have plummeted down the Eastern Conference standings and with 37 games left to play, it is already obvious there will be no playoff games in Montreal for the third consecutive spring.
There is little to play for other than draft position (I would have said pride but, you did read the part where it says they are on their second eight game losing streak, right?) With nothing on the line in the following 37 games, it would make sense for the Habs to give younger players a look and see if they are NHL ready or if they have the potential to be an NHL player in the future.
One player that keeps looking like an NHL player every time he is in the AHL is Charles Hudon. The problem is, in his last 41 NHL games, he has just three goals and six points. He continues to light up the scoreboard with the Laval Rocket, but doesn't bring that same offence to the Montreal Canadiens when given the chance.
Of course, it could be debated, even when he was with the Canadiens he wasn't given the chance to show what he can do offensively. Hudon played nine games with the Habs earlier this season, but played most of his minutes with Nate Thompson as his center and either Nick Cousins or Jordan Weal as the other winger on the line.
The 25 year old Hudon is a smart enough defensive player that he put up great possession numbers with Thompson, but there were not many pucks going into either net when they were on the ice.
Hudon was sent back down to the Laval Rocket in early December and has been a goal-scoring machine. In ten games since being shipped back to the American Hockey League, Hudon has nine goals. He missed 11 AHL games while he was up with the Habs, but he is still tied for 5th in AHL goals with 18 in 27 games.
Hudon is especially dangerous on the man advantage. He is a left shot who sets up on his off wing and hammers one-timers like an inverted Alex Ovechkin. Eleven of his 18 goals have come on the power play and he leads all AHL players in power play markers.
With him playing so well in the AHL, is it time the Canadiens gave him another chance?
With so many injuries, especially to wingers, it seems like a good time to give Hudon another look. The Habs are missing Paul Byron, Jonathan Drouin, Brendan Gallagher and Joel Armia tonight and will likely have Nick Cousins on the first line.
Why not call up Hudon and feed him a little top six minutes, or at least third line minutes for a while. Get him out on the power play in the same role he plays with the Rocket and see if he can fire a few past NHL goaltenders for a change.
Best case scenario is you find out the guy can play a third line role and score some power play goals. He is still 25 and could be an effective two-way winger for the foreseeable future. Maybe it allows you to move Byron in a trade later on and replace him with a similar two-way forward.
Worst case scenario is he doesn't play well and you lose a few more games in a season that is already lost anyway. Who cares. Maybe he scores a few power play goals and a contending team that is battling injuries offers up a draft pick for him. There is nothing wrong with giving Trevor Timmins another mid-round draft pick to work some magic.
The only downside is if he plays more games he becomes eligible for waivers. That would make it impossible to send him back to Laval without placing him on waivers first. However, the only reason he would be sent back down is if he doesn't play well.
If he doesn't play well at the NHL level again, there would be enough evidence to suggest he doesn't have what it takes to compete at that level anyway. Losing him for nothing at that point wouldn't matter. He would have proven he can't help the NHL team and they could afford to let him go elsewhere.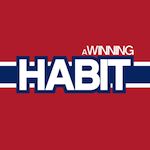 Want your voice heard? Join the A Winning Habit team!
Write for us!
With Cousins getting first line treatment, is it really a bad idea to let Charles Hudon take on a role inside the top nine on a disappointing team to see if he can handle it? No, it's not and the Canadiens should give him one last real opportunity to see if he can score at the NHL level.