Montreal Canadiens European Prospects Taking Part In World Junior Tournament Tune Up
The Montreal Canadiens prospects had lots of success at the World Junior Championships last year. They have a trio of intriguing prospects taking part in a tune-up for this year's tournament.
The Montreal Canadiens top prospects had a lot of success at last year's World Junior Hockey Championships. They had Jesse Ylonen scoring six points in seven games and winning a gold medal. Ryan Poehling won the MVP as well as a silver medal, Cayden Primeau was fantastic in goal also winning silver and Alexander Romanov was named the top defenceman.
Ylonen, Poehling and Primeau are too old for the event this year, but Romanov will be returning. He will be joined by a new cast of Habs prospects and though it will be hard to match the achievements from last year's tournament, there are a number of intriguing prospects gearing up for this year's tournament.
A big tune-up for this year's tournament that takes place in the Czech Republic is going on for four European nations this weekend. The aptly named 4-Nations Tournament starts this morning with Finland taking on Russia and Sweden facing the Czech Republic in Helsinki, Finland. Each team will play the other three teams between this morning and Sunday.
Of note for fans of the Montreal Canadiens fans are a trio of prospects that are taking part. Sweden features a pair of Canadiens prospects in Mattias Norlinder and Jacob Olofsson. Russia will have Romanov who could very well be the best defenceman at the World Juniors for a second straight year.
Olofsson was skating as the first line centre for Sweden as they prepared for this tournament. He was a second round pick of the Habs in the 2018 draft and played a depth role for Sweden at last year's World Juniors. He is a lock to make the team again this year and should play a huge role in all situations.
It will be a bit of a tougher path for Norlinder, though he is having a great season. The 18 year old left shooting defender was a third round pick of the Habs at last year's draft and has six goals and nine points in 16 games for Modo in Allsvenskan which is the second best pro league in Sweden.
He has a lot of competition in Sweden among left defenders. Rasmus Sandin and Tobias Bjornfot have NHL experience this season but are both currently in the American Hockey League. Assuming their North American teams allow them to go to the World Juniors, and why wouldn't they with both players currently in the minors, they will take up the top two spots on the left side.
Sweden also have Adam Ginning and Phillip Broberg returning on the left side from last year's team. They could also have Adam Boqvist depending on whether the Chicago Blackhawks want to part with him for a month or so as well as first round pick Victor Soderstrom on the right side.
Norlinder is going to have to have a huge tournament this weekend to have the Swedish brass consider him for the final roster. Otherwise, when the players currently playing in North America are inevitably made available in December, Norlinder is going to be one of the defenders sent packing.
Romanov is a lock to make the Russian team even if he spends this weekend firing shots at his own goaltender. He was dominant at last year's event scoring eight points in seven games and shutting down the opposition with excellent defensive play.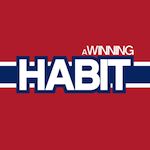 Want your voice heard? Join the A Winning Habit team!
Write for us!
The games are pretty early, with Finland playing Russia at 9:30 A.M. EST this morning and Sweden and the Czech Republic facing off at 10:30. You might want to check out onhockey for a link to the game, just don't tell you boss I sent you there.