Montreal Canadiens: The Other Head Coach on the Team
Montreal Canadiens GM Marc Bergevin should take a long look at who's developing his players. Coach Sylvain Lefebvre of Laval Rocket has not had success thus far.
Ask any fan of the Montreal Canadiens of what they thought about the firing of Michel Therrien and you will get an overwhelmingly positive response. After suffering through an excruciating non-playoff season in 2015-2016, the Habs loyal were clearly frustrated with their head coach.
Add into the mix the growing speculation that Therrien was the one who rallied GM Marc Bergevin to trade P.K. Subban last off-season, and even the most passive fan can understand why those who follow the bleu blanc et rouge were overjoyed when they found out Therrien was being replaced by Claude Julien.
It came almost as a relief to Habs fans, who were worried that Bergevin's personal relationship with Therrien would prevent the coach from ever being shown the door. Bergevin repeatedly came out in defence of his detested head coach. And to be fair, statistically it is understandable why he did.
Viewing Therrien's second tour with the Canadiens from a purely "wins versus loss" scenario, the record isn't bad. The Habs made the playoffs in each of the first three seasons he was at the helm. During that stretch the team had some deep runs making it to the third round in 2013-2014, and star goaltender Carey Price earned an astounding 44 wins the following season.
However it was his fourth full season as head coach that ended it for Therrien. They would finish with an even .500 record and were out of the playoff race. The year after, he was sent packing.
Despite replacing Therrien with the currently more popular Julien, Bergevin finds himself yet again in a similar position with a coach. Not Julien of course, but the other head coach; Sylvain Lefebvre of the Laval Rocket.
Time for Change
Lefebvre has been coaching Montreal's farm team for the last five full seasons. Despite being the same club, this will actually be the third city he will be coaching in with the organization. The team was originally the Hamilton Bulldogs before moving to St. John's as the Ice Caps and finally finding a home in Laval as the Rocket.
In those five seasons, the team has made the playoffs once, which was last year. They did so with a dismal .539 record, which was actually a career high for coach Lefebvre. His career low was .421 in 2012/13, in case you were wondering. However, this is only a minor issue when compared to the more pressing problem of Lefebvre's coaching. He may not be very good at developing players.
Now, it's not entirely fair to push all of the blame on Lefebvre. There are other people in hockey operations around him, and ultimately it is Marc Bergevin's responsibility to acquire the players who will play in the farm.
That being said, of all skaters to lace up for the Habs last year, only Nathan Beaulieu played games for the Habs and was developed in Lefebvre's system.
Other players like Michael McCarron, Sven Andrighetto, Greg Pateryn, and Daniel Carr did play in the show last year but none earned a full-time roster spot. This is the big glowing red X on Lefebvre's record and the one that has to be most concerning to Bergevin.
If an AHL team is bad because their best players keep getting called up, it's understandable. But if they play poorly and haven't developed talent capable of playing at the next level, it's just a bad situation for everyone involved. It can create an environment of loss and frustration for players who should be exhilarated to experience pro hockey.
The American Hockey League should be a place where careers start to form and take shape. As it currently stands, the Laval Rocket may be a place where development is halted. It should be noted though that I may be in the minority with this opinion.
Lefebvre signed a two-year extension in the off-season. The signing was a clear signal that once again, Bergevin was standing behind his man. Unlike Therrien though, Lefebvre's record can't possibly explain why.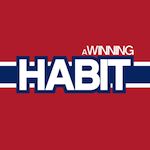 Want your voice heard? Join the A Winning Habit team!
Write for us!
What do you think of Sylvain Lefebvre? Has he done a good enough job? Let us know your thoughts in the comments!