Canadiens: Will The Habs Qualify Denis Gurianov?
The Montreal Canadiens picked up Denis Gurianov at the trade deadline in a deal that sent Evgeni Dadonov to the Dallas Stars.
Dadonov was acquired last offseason in a trade that sent Shea Weber's contract to the Vegas Golden Knights, so not a lot was expected of him. Still, he somehow kind of disappointed in his few months with the Canadiens, scoring four goals and 18 points in 50 games while looking completely disinterested at times.
So, when the scuffling 34 year old was traded for a struggling 26 year old Gurianov it seemed like a risk worth taking for the Canadiens. Gurianov had shown flashes of strong play with the Stars after being selected 12th overall in the 2015 NHL Draft, but he had just nine points in 43 games last season before the trade.
The Canadiens decided to take a chance on Gurianov instead of a mid-round pick in a trade for Dadonov. But, he didn't really find his footing right away in Montreal. He does have an intriguing package of size (6'3″ and 205 pounds) speed and skill, but he can't seem to put all the tools together in the tool box.
The Russian winger played 23 games with the Canadiens and scored five goals and eight points. He also was able to pull the same disappearing act as Dadonov at times and would have games where you would forget as a fan that he was even on the ice. Then he could have a few games where his size and speed looked impossible to slow down as he drove to the net with the puck.
While the gamble, if we can even call it that, of acquiring Gurianov for Dadonov didn't really pay off, the Canadiens do control his rights for next season. Gurianov is a restricted free agent, which means his contract is up and the Canadiens can retain his rights with a qualifying offer.
A qualifying offer is a one-year contract extension at the same salary a player made last season. Gurianov earned $2.9 million last season on a one-year contract so the Canadiens would have to offer him that amount to stick around next season. If the Habs don't give him that offer then he becomes an unrestricted free agent on July 1.
After scoring a combined seven goals and seventeen points in 66 games between the Canadiens and Stars, he would quickly sign that offer if it is handed to him.
But should the Canadiens extend that offer? Frank Seravalli of Daily Faceoff mentions Gurianov as a restricted free agent who may not receive a qualifying offer this spring. In fact, he has him third on his list after MacKenzie Blackwood and Jesse Puljujarvi.
Seravalli is as dialled in as any insider around the league, so he probably has reason to put Gurianov on his list. It really sounds like Gurianov's time in Montreal has already come to a close.
While he was a first round pick, and scored 20 goals in 64 games in 2019-20, Gurianov really hasn't shown much else at the NHL level. The Canadiens already have a number of veteran wingers like Josh Anderson, Brendan Gallagher, Mike Hoffman, Joel Armia and Rem Pitlick as well as youngsters like Cole Caufield, Juraj Slafkovsky, Michael Pezzetta, Rafael Harvey-Pinard, Sean Farrell, and Jesse Ylonen.
That is 11 wingers for eight spots on a given night. Signing Gurianov, who has shown little at the age of 26, just means younger players that could use some NHL experience would play less games.
It makes sense to just let Gurianov walk and give a longer look to younger wingers like Harvey-Pinard and Ylonen to see what they can do before they reach a similar turning point in their careers.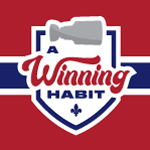 Want your voice heard? Join the A Winning Habit team!
Write for us!