Montreal Canadiens – By The Numbers – January
Welcome to "By The Numbers," a new monthly series here on A Winning Habit, where we will examine how the Montreal Canadiens did each month of the season. Today we are looking at how they did this January, which included multiple lengthy home stands sandwiched between the holiday and All-star breaks.
It goes without saying that the month of December was one the Habs would like to forget, going 4-9-2 and ending the year on a seven-game losing streak, with the last two losses carrying over into the new year. During that streak, the Canadiens had three consecutive losses of 7-2, 9-2, and 6-3, so a bounce back was desperately needed. And while the Habs only finished January with five wins, the feeling around the team is a lot more optimistic than it was a month ago.
The Canadiens have been decimated by injuries this season, and the news only got worse as it was announced leading goal scorer Cole Caufield would miss the remainder of the season with a shoulder injury. However, rookie Rafäel Harvey-Pinard has stepped up in his absence, potting five goals in seven games, providing the Canadiens with some much-needed offense. The Habs were dealt with a few gut punches in January, but they bounced back every time, even if it isn't necessarily reflected on the scoreboard.
Statistically, the Habs still didn't have a great month by any means; they went 5-8-1 while only averaging 2.4 goals a game, a rate similar to what they did in December. On the season, the Canadiens rank 30th in the NHL, averaging 2.55 goals a game, perhaps a little disappointing but not entirely unexpected. Remember, this is a rebuilding squad, the results are not nearly as important as the process, and the Habs were far more competitive in January, especially as the month wore on.
The Canadiens improved all across the board compared to December, giving up fewer goals per game, scoring more per game, and controlling more of the play. They improved their xGF% at 5v5 from 39.96% in December to 42.96% in January, a slight but positive improvement. It's not quite where you would want it to be (a good xGF% is anything over 50%), but for a depleted, rebuilding roster, it's about where you would expect. For reference, the Carolina Hurricanes lead the league this season in 5v5 xGF% at 59.83%. If you need an explanation for what xGF% is, you can find one here, but essentially what it means is that if a team has a high xGF%, they have more quality scoring chances than their opponent.
After a hot and somewhat unexpected start, the Canadiens have cooled off quite a bit and are now about where we expected them to be at the beginning of the year. Even during that stretch, it was anticipated that they would eventually come back down to earth, in large part because of what the analytics told us. The Habs we're scoring way more than expected while also getting outstanding goaltending. The word unsustainable was thrown around a lot, and that, unfortunately, proved to be true. The Canadiens' xGF% for each month is pretty similar, as shown on the graph in the tweet above, but their actual GF% was much higher in October than in the other three months.
Essentially, what this means is that the Canadiens are who we thought they were; it just took a little bit of time for them to reach this point. That isn't bad; again, they're rebuilding, and Rome wasn't built in a day. As more talent comes in, these numbers will improve, as will the results. It just won't happen overnight. The good news is the team isn't giving up, as it might have first appeared at the end of December. Just last week, the Canadiens gave the league-leading Bruins all they could handle, and they knocked off some playoff-bound teams as well. The culture is forming nicely, and the talent is coming. For a rebuilding organization, that's about all you can ask for.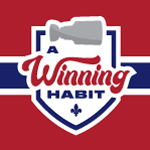 Want your voice heard? Join the A Winning Habit team!
Write for us!