The Montreal Canadiens Are Surprisingly A Very Deep Team
How long has it been since it could legitimately be said the Montreal Canadiens have a deep roster?
The 2021 Stanley Cup playoffs saw a great performance by a Canadiens team that was doing everything right. But coming off a mediocre, if not poor, regular season, the impressive playoff run was characterized more so as an intense burst of short-term synergy than the inevitable path of a through-composed squad.
'Depth' is a descriptor reserved for regular season play, during which a team's response to various game situations is evaluated, and is manifest over a long period of time. The questions are: How many tools does this team have, how many ways can they find to win, and can they do it consistently?
Canadiens Already Far More Interesting Than Last Season
There is early indication that the Canadiens may be a much more compelling team this year than most had anticipated.
Considering first the forwards, a recent TSN broadcast profiled Cole Caufield's outscoring of both Nathan Mackinnon and Connor McDavid over the last nine months.
Nick Suzuki, after a slow start the first half of last season, has since been steadily improving, and is averaging more than a point per game this year.
Josh Anderson already has a couple of goals, including a clutch game winner, and should contribute at least 20 this campaign as part of his broad power-forward skill set.
But it gets especially interesting when we consider Jonathon Drouin, Kirby Dach, and Sean Monahan. Originally selected third, third, and sixth overall in their respective draft years, this trio of humpty-dumpties each seem to have been put back together again, and therein lies the crux.
Monahan is a 30 goal scorer waiting to happen again. Drouin and Dach have yet to demonstrate what they can really do over a complete season when healthy and comfortable. This group should be expected to perform at an elite level, and a realization of their collective potential may be underway as after five games they have scored eight points are are a plus three, essentially arming the Montreal Canadiens with two number-one lines.
Beyond the impressive top-six, we find proven scorer Mike Hoffman, on average potting one goal every three games over the course of his career, and Evgenii Dadonov, also consistently in the twenty plus range per season. Both have had slow starts this year but are expected to contribute as per historical rates as the season progresses.
Lurking quietly on the third and forth lines is Juraj Slafkovsky, Slovakia's best player of last year's Olympics and World Championships and number one pick overall. Once he gets his sea legs he will add yet another, and possibly the most impactful, dimension to what is shaping up to be a dynamic offense.
Of course, we would be remiss not to mention Brendan Gallagher. His leadership, grit, and tenacity brings to the table more than just stats. Those intangibles continually inspire and energize the team.
In the defensive corps, the completely unforeseen and pleasant surprise is that four rookies – Johnathan Kovacevic, Arber Xhekaj, Kaiden Guhle, and Jordan Harris – are plus four and a huge reason for the Canadiens early success. Tyler Kotila's discussion of Harris and Ken MacMillan's apt survey of Xhekaj pose convincing arguments that the club's newest additions have impressed both the team and the league.
Even more encouraging, however, is that the best of the Montreal Canadiens defense may be lying in wait. Currently injured, Joel Edmundson and Mike Matheson should, theoretically, further bolster the Habs blueline upon their eventual return.
As for goaltending, Tyler Kitola's review of Jake Allen proves that the Montreal Canadiens top netminder has an ability to both win games and not lose them, i.e. stand tall when the team is being badly out shot, or hold steady when the team is in control on the ice and scoreboard.
Finally, is the club's sense of drama and style – Anderson's stunning game winner with a few seconds left, Xhekaj's destruction of Kassian, and Suzuki's audacious penalty shot all sent shockwaves through the fans and media. It's not just the winning, but how they are playing and winning. Reminiscent of times long past, these Habs have panache.
So there seems to be a plethora of riches on the Montreal Canadiens this year, a startling position given that pre-season chatter was limited to whether the Canadiens would again finish last or rise a few places to mediocrity. Instead, we have been gifted with a club that is rich in almost every area of its composition.
Some would say, however, that a handful of games is not statistically significant, and that potential and expectations are simply not part of reality.
Depth requires time and the flux of circumstance to assess, and it turns out we are soon going to get another gauge of whether or not the Montreal Canadiens really have it, for the injury count is mounting as we speak – Slafkovsky was forced to miss the game versus the Dallas Stars with an upper body issue and Gallagher went heavily into the boards after tripping on a stray stick.
Regardless of how it unfolds, fans should relish in the sudden dynamism of the Montreal Canadiens. Let's immerse ourselves in the exciting possibilities that have been absent from the equation for far too long.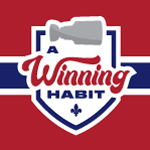 Want your voice heard? Join the A Winning Habit team!
Write for us!