Turmoil In Pittsburgh Could Be Advantageous For Canadiens
Even when not in the playoffs, there's not a day that passes by where the Montreal Canadiens don't get a mention. It's just that intense.
The Canadiens are getting mentioned left, right and center in all kinds of ridiculous rumors. After Kent Hughes clearly said that he won't be going after high priced free agents after all due to the LTIR contracts of Shea Weber and possibly Carey Price weighing heavily against the salary cap, people still think the team is going to land a star.
No folks, the anonymous "insider" is not going to get this one correct. There is however a certain amount of chaos building up in Pittsburgh that Kent Hughes might want to a certain advantage of.
Ron Hextall and the Pittsburgh Penguins are facing a peculiar offseason. Their core stars are aging, they just got eliminated by the New York Rangers and Mario Lemieux and his group sold the majority of their shares to Fenway Sports Group. The group also owns Liverpool F.C. and the Boston Red Sox as well as many other Fenway-related subsidiaries.
The Penguins have 14 unrestricted free agents to deal with. Evgeni Malkin, Kristopher Letang, Bryan Rust, Rickard Rakell and Casey DeSmith are the notable names set to hit free agency and as time passes, it appears there's a chance nearly none of the pending UFA's will be resigned, which would ultimately lead to a rebuild in Pittsburgh. Again, none of these free agents should or will be on the Canadiens' radar.
Reports have leaked that both Malkin and Letang have both received lowball offers which sent shockwaves throughout the locker room. Even Sidney Crosby openly stated that he felt insulted by such a ridiculous offer to his teammates.
Crosby recently said that he has at least three more seasons in him, which would coincide with the end of his 12 year $102 million contract signed in 2012. Crosby's final three years which will count towards the symbolic $8.7 million cap hit, will be the lowest base salary of his contract as he is slated to make $3 million a year in actual salary.
No i'm not going to say the Canadiens should get Crosby. As amazing as that would be to see #87 in a bleu-blanc-rouge jersey, he's rooted in Pittsburgh for life.
If the Penguins do decide it's time to rebuild and new ownership wants to cut into finances like they recently did with the Red Sox, John Marino is someone the Canadiens should seriously look at.
Marino played in the shadow of Kris Letang on the right side of the blue line ever since he made his NHL debut in 2019 after being acquired via trade by the Edmonton Oilers. The 24 year old was signed to an extension a few days after new years 2021 by then GM Jim Rutherford to a 6 year $26.4 million contract with a $4.4 million cap hit. He has a limited no trade clause in the final three years of his contract which allows him to submit an 8 team no trade list.
The Brocton, Massachusetts native will turn 25 on May 21st and would be the perfect replacement for Jeff Petry as they both have a similar style of play, with Marino being maybe a little quicker on his feet. He's also proved to being able to play big minutes as he has averaged 20:38 of ice time in the regular season and 23:16 in the playoffs. In game 7 against the Rangers he played 26:45. Having him paired with Alexander Romanov could be an absolute treat to watch.
Can the Canadiens convince Ron Hextall to make a trade? Most definitely, especially with the plethora of draft picks the Canadiens possess and the fact that Marino is a Rutherford acquisition and not one Hextall made. This is the kind of trade that makes sense for a team like the Canadiens who are rebuilding but want to accelerate it just a notch by immediately filling a long-term gap in their roster.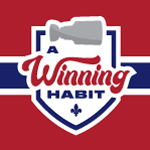 Want your voice heard? Join the A Winning Habit team!
Write for us!