Montreal Canadiens: Edmonton Oilers Goalie Woes Good News For Habs
The Montreal Canadiens currently sit last in the 32 team NHL standings in points percentage.
There is a long way to go before the season ends, 48 Habs games will be played between now and then. While the exact place where they will finish in the standings is certainly not locked in, there is no way the team is going to make the playoffs.
The Canadiens are definitely going to be sellers as we move toward the March 21st trade deadline, though they won't be able to make any deals anytime soon with all of the injuries and Covid related absences they are dealing with. They currently have 22 players on the Covid list so they need every healthy body they can get to put together a full roster.
But when they do eventually get healthy, the team will start selling off veterans. There no is no question about that, but the question is how many veterans will be gone? We all know player son expiring contracts like Ben Chiarot, Brett Kulak and Mathieu Perreault make a lot of sense to trade for picks and prospects, but who else?
The biggest question will be around goaltender Carey Price. If the Canadians choose to take a deep rebuilding approach, they really wouldn't want a 34 year old former Hart Trophy in their net.
It won't be easy to trade Price though because of his contract. He has four more years after this one with a $10.5 million cap hit. Even though Price has an incredible track record and was fantastic each of the past two postseasons, it would take a desperate team to give up the right package of prospects and picks that would make sense for the Canadiens to take in exchange for their superstar goaltender.
Well, the Edmonton Oilers just might be that desperate. They have gone with the goaltending tandem of Mikko Koskinen and Mike Smith once again and it is not going well. Though the team started the season 16-5, they find themselves battling for a playoff spot after a 2-9-2 stretch.
In their past two games, each goalie wore the goat horns for an evening.
Before their Monday night game with the New York Rangers, head coach Dave Tippett talked about the importance of a good start and the need to get the first goal which has been difficult for the Oilers this season.
Just 5:25 into the game, the Rangers dumped the puck in the corner and Koskinen came out to play it. The problem was, the puck was outside the trapezoid so he was not allowed to touch it and got stuck in no mans land. Ryan Strome moved it out front and Alexis Lafreniere scored the game's opening goal.
The Oilers would lose 4-1. Tippett would point to Koskinen's mistake as a big reason the team lost the game.
In their next game, the Oilers played the Toronto Maple Leafs. This time Smith was in goal, and just 4:25 into this game, the Leafs took a shot that missed the net. It bounced off the end boards and back in front of the net where Smith swiftly kicked it into his own goal. The game's winning goal came in the third period when Ilya Mikheyev (not exactly Alex Ovechkin) scored on a wrist shot from above the top of the circle with no screen in front.
It just highlighted over the course of two games that neither goaltender would be easy to trust in a playoff series, or even in a race for a playoff spot.
The Oilers are surely sniffing around the goaltending market, and must be reaching the point of desperation where they would consider putting a package together for Carey Price. Of course, Price hasn't played yet this season, so they aren't likely to do this today, but if Price can get back on the ice soon, the Oilers will be watching him closely.
As for what kind of a package would it take? It doesn't make sense for the Canadiens to just dump Price's salary. Jeff Gorton's first big move can't be giving away Carey Price. It would require a prospect that Canadiens fans can get excited about and an early draft pick. The Canadiens would need to either take back loads of salary, or retain a significant amount of Price's contract or a combination of both.
Let's say the Oilers want to convince the Canadiens to take on Koskinen's $4.5 million salary for the rest of this season plus retain 50% of Price's contract for four seasons. That's going to cost them their 2022 first round pick and one of their best prospects like Dylan Holloway or Xavier Bourgault.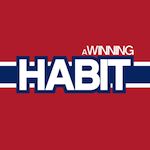 Want your voice heard? Join the A Winning Habit team!
Write for us!