Montreal Canadiens: Michael Pezzetta Carries Strong Training Camp Into AHL Season
Montreal Canadiens training camp was about a week and a half too long as well as three or four preseason games too much.
It seemed to go on forever, when we could have guessed 20 or 21 of the players that would be on the 23 man roster to being the season long ago. While it was longer than necessary, there were a couple of unknown players who put their best foot forward and really made a name for themselves.
One of those players was Michael Pezzetta.
Pezzetta was a 6th round pick of the Canadiens in the 2016 NHL Draft. Though he was selected, he had a slim chance of becoming an NHL player. He was coming off a season in the OHL with the Sudbury Wolves where he scored ten goals and 28 points in 64 games. Needless to say, he wasn't selected for his offensive prowess.
The Toronto native is a scrappy, physical winger who doesn't back down from a battle with anyone. He isn't small at 6'1 and 205 pounds, but he plays like he is the biggest player on the ice every night. He brought that intensity throughout the preseason and had one of the few memorable games in the preseason for a Canadiens player.
The Habs second game of the preseason was against the Toronto Maple Leafs and Pezzetta really stood out. He scored twice, played with a physical edge all night, threw a big hit on the forecheck, and just made life miserable for the Leafs goalie by batting in front of the net on every shift.
It was just an exhibition game but he led the way with two goals, four shots on goal and five hits, while playing just 13:09.
The 23 year old left winger has carried that momentum into the beginning of the Laval Rocket season.
The Rocket season started on Friday night and Pezzetta found the scoresheet with a goal and an assist. They played again on Saturday night and though they lost 6-2, Pezzetta had an assist on each Rocket goal. This gives him four points in just two games to lead the team early on.
This is incredible production from Pezzetta as he now has one less point than he did last season when he played 20 games and he has the same number of points as he scored the year before that when he played 32 games. Pezzetta's best season with the Rocket so far was his first, when he put up six goals and ten points in 55 games in 2018-19.
If he keeps this up, we won't be able to call the 2018-19 season his best for much longer. Pezzetta definitely caught the attention of Habs management in training camp, and if he can continue to produce some offence while providing a lot of sandpaper, he could be making his NHL debut this season.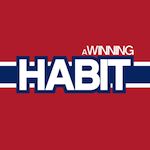 Want your voice heard? Join the A Winning Habit team!
Write for us!