Montreal Canadiens: Overtime Failures Overshadow Team's Successes
Montreal Canadiens games may as well just be called when the third period ends in a tie.
We all know what is going to happen next. It could be in the first minute like it was last night, or it could be late in the extra period like the season opener. Or, they might even get to take a few shots in the shootout.
However, we all know they aren't getting that second point in the standings.
So far this season, eight Habs games have gone to extra time. Eight of them. And every single one of them has resulted in a Canadiens loss. Five of those games ended in the three on three overtime period and the other three were decided in a shootout. But the end result was always the same, a single point for the Canadiens and two for their opponent.
This gives the Canadiens a record of 13-8-8 on the season. While a lot has been made of their putrid play beyond 60 minutes, not much has been said about their first 60 minutes which has been mostly really good.
The Canadiens have played 29 games so far this season and have only lost eight in regulation. So, only 27.5% of the time, their opponent is the better team after 60 minutes of play. That's actually an incredible achievement.
The only teams with less regulation losses than the Canadiens this season are the Tampa Bay Lightning, Florida Panthers, Carolina Hurricanes, New York Islanders and Vegas Golden Knights.
In other words, the only teams with less regulation losses than the Canadiens this season are the five best teams in the National Hockey League.
Within their own division, the Habs have the least number of losses after 60 minutes. The Winnipeg Jets and Toronto Maple Leafs are atop the division and each have nine regulation losses this season.
The Habs eight games that required extra time aren't even that many more than the average team. The Jets have played eight overtimes, they just happen to have won six of them. The Maple Leafs have played five extra periods and won three of them. The Calgary Flames have played five overtimes and won twice. The Vancouver Canucks went to extra time six times and won four fo them. The Ottawa Senators have gone to overtime seven times and won four. Only the Edmonton Oilers are strangers to ending regulation in a tie as it has happened just once and they were able to win in overtime.
Three on three overtime in the NHL is basically a crapshoot. Chances are traded back and forth in rapid succession. The Canadiens unfortunately have been either the worst team or the unluckiest, depending on how you want to look at it.
Even with their awful overtime record of 0-8, they are sitting nicely in a playoff spot with 34 points in 29 games. They are two up on the Canucks for the final playoff spot but have played four less games. They are three points ahead of the Calgary Flames but have one game in hand.
Perhaps they are not comfortably in a playoff spot, but they are in a playoff spot. If they had a little more luck in extra periods of hockey, they would be far more comfortable. If they were even .500 in overtime games, they'd be just two points back of the Maple Leafs for the division lead.
However, this team is obviously not built for three on three action.
The good news is, we don't see three on three in the NHL Playoffs. We certainly don't see shootouts either. What we do see is a lot of five on five action with referees more or less ignoring penalties.
That is exactly what the Habs are built for, and even in this regular season, they are doing just fine when they have five players on the ice. Eight regulation losses out of 29 games means teams have a really difficult time beating this Canadiens team at full strength.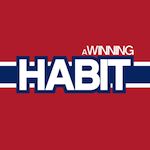 Want your voice heard? Join the A Winning Habit team!
Write for us!
The Habs might need to be a little better in overtime games in order to make the playoffs. If they do, they are going to be a tougher team to beat than their final place in the standings would suggest.