Montreal Canadiens: Cole Caufield Wraps Up College Regular Season This Weekend
Montreal Canadiens prospect Cole Caufield will put the final touches on a very impressive college hockey season this weekend.
The 15th overall pick from the 2019 NHL Draft is the star forward for the Wisconsin Badgers who are among the top teams in the country this season. The Badgers disappointed last season, though the blame couldn't be laid at Caufield's feet.
The Stevens Point, Wisconsin native scored 19 goals and 35 points in 35 games last season, but the Badgers finished last in the Big Ten Conference.
This season, Caufield has been even better and the Badgers overall have been exceptional. Caufield currently leads the nation in goals with 22, which is six ahead of the next highest total. He is also leading the country in points with 42 in 26 games. Odden Tufto is his only competition in that race, as the Quinnipiac winger has 40 points heading into the final weekend of the regular season.
Caufield's closes out his regular season with a pair of contests against the Michigan State Spartans. The Spartans are in last place in the seven team Big Ten Conference, and could provide Caufield with an opportunity to run away with the scoring title.
In two games so far this season against Michigan State, Caufield has four goals and three assists for seven points. He absolutely picked them apart in late January in Wisconsin and will look to do the same again this weekend.
These two teams are likely to meet again in the quarterfinals of the Big Ten playoffs as the second and seventh seeds. It's possible with a sweep this weekend that the Badgers could jump to first in the conference standings and get a bye to the semifinals, but they would need some help from Michigan who are playing first place Minnesota.
Michigan is the third place team in the conference, so it's not out of the realm of possibility that they could steal a game, or even two, from Minnesota.
The Big Ten playoffs are going to take place over just three days. All seven teams in the conference qualify, with the first overall seed receiving a bye to the semifinals. The other six teams face off in the quarterfinals on Sunday, March 14, with three moving on to join the top seed in the semifinals on Monday, March 15. The final will be played on Tuesday, March 16.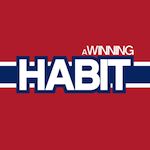 Want your voice heard? Join the A Winning Habit team!
Write for us!
It is going to be a quick tournament to determine the conference champion, and thanks to Cole Caufield's terrific play, the Badgers have a great chance of winning the whole thing. If the Badgers go on a really deep run, they'll be playing for a national title on April 10th. After that? We could be seeing Caufield make his NHL debut next.