Montreal Canadiens Fire Goalie Coach Stephane Waite, Bring in Sean Burke
Montreal Canadiens goaltending coach Stephane Waite has been relieved of his duties. Subsequently, the Habs have announced the hiring of Sean Burke as Director of Goaltending for the organization.
Waite has been the goaltending coach for the Habs since 2013, almost working with Carey Price for his entire career in Montreal. He had previously worked in Chicago with the Blackhawks but was hired in Montreal shortly after general manager Marc Bergevin was brought in from the Blackhawks as well.
The announcement comes as a bit of a surprise, because the Habs made a few coaching changes just a week ago, but Waite was spared.
Head coach Claude Julien and assistant coach Kirk Muller were both let go last week, and replaced by Dominique Ducharme as the new head coach and Alex Burrows was brought up from the Laval Rocket bench to be the team's new assistant. There were no other changes made at the time, so it seems odd that a change now needs to be made at goaltending coach as well.
Habs starting goalie Carey Price has certainly had just struggles this season, but he just played one of his best games of the season last night. Again, that just adds to the questions as to why the change needed to be made an hour or so after a game, and a game that went well for Price.
Burke does come highly regarded as he has been a goaltending coach before with the Arizona Coyotes. He worked with Mike Smith for many years and helped guide him into a steady and reliable workhorse for the Coyotes for nearly a decade.
Burke has done plenty of work with Canada's international program, including being GM of the 2018 Olympic team. He has been working with the Canadiens as a pro scout for the past four seasons.
There is no question that Burke is qualified for the position, the timing seems odd though. Why do this in the middle of the night hours after a victory?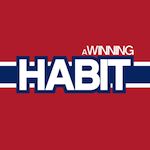 Want your voice heard? Join the A Winning Habit team!
Write for us!
That question is difficult to answer, but there is obviously a sense of urgency in the Habs organization to get things pointed in the right direction. Let's hope this leads to Carey Price returning to form in the near future.