Canadiens: The Many Travels and Teams of Alex Galchenyuk
As crazy as it might sound, there was once a time where Alex Galchenyuk was one of the NHL's top prospects, and the perceived future of the Montreal Canadiens offense.
A native of Milwaukee, Wisconsin (having been born there while his father, Alexander, was playing for the IHL's Milwaukee Admirals) Galchenyuk battled through injury troubles over the course of his three seasons with the OHL's Sarnia Sting. In spite of this, he managed to put up some impressive numbers, with highs of 83 points in 68 games in 2010-11. Playing alongside a number of former top prospects like Nail Yakupov and Nikolay Goldobin, Galchenyuk was ranked as the No. 4 prospect amongst North American skaters by NHL central scouting in 2012.
Having come off an inexplicably poor 2011-12 season that ended with a 31-35-16 record, the Canadiens selected Galchenyuk third overall in the 2012 NHL entry draft. Heading into the 2012-13 season, the Habs hoped to rebound and return to the form of season's prior, in spite of a lockout which led to a restricted 48 game schedule. On a Canadiens team possessing a number of future NHL regulars like P.K Subban, Brendan Gallagher and Lars Eller, Galchenyuk made the opening night roster, recording a solid 27 points over 48 games, as the Canadiens returned to the Stanley Cup playoffs with a 29-14-5 record.
In subsequent seasons, Galchenyuk would continue to increase his point totals, often being a bright spot on a Canadiens team that struggled through mediocre stretches at times. In a rough 2015-16 season that saw Montreal completely collapse in the second half of the campaign, Galchenyuk posted a career high 30 goals and 56 points, finishing second on the team in scoring behind current Vegas Golden Knights forward Max Pacioretty. After enduring some growing pains in his first three NHL seasons, it seemed as though Galchenyuk was finally turning into the star player Habs fans expected him to be.
Sadly, that never truly came to fruition. After two more mediocre seasons of 44 and 51 points respectively, Galchenyuk's continued work ethic and consistency issues, coupled with his constant defensive lapses (posting a team worst -31 rating in the 2017-18 season) led to Habs GM Marc Bergevin ultimately trading the 6'01 center to the Arizona Coyotes, in a one for one trade for similarly struggling prospect Max Domi. In a 2018-19 season that saw Domi flourish in Montreal with an impressive 72 point campaign, Galchenyuk played at his usual pace on an offensively starved Coyotes team, posting 41 points over 72 games with a -19 rating.
Since then, Galchenyuk has gone from being a top prospect, to a solid second line option, to the absolute definition of a playing card, a player who just can't stick with one team or another for whatever reason. In Galchenyuk's case, his on-ice awareness (particularly in his own end) is severely lacking, leaving him more often than not in the wrong place at the wrong time, leading to him playing for four NHL teams over the last three seasons, now being on his fifth after being traded on Saturday. After going through most of the 2020 free agency period unsigned, after enduring a nightmare stint with the Pittsburgh Penguins in 2019-20, Galchenyuk ultimately signed a one-year deal with the Ottawa Senators worth 1.05$ million.
Once considered the Canadiens No.1 prospect, Alex Galchenyuk finds himself on his fifth NHL team in three seasons.
On a Senators team looking to rebrand and re-bolster their lineup following the departure of star forwards Matt Duchene and Mark Stone, Galchenyuk was expected to be able to provide some depth offense to a young and developing Senators team. However, in spite of a pretty first goal, Galchenyuk was mainly reserved to a bottom-six role, registering just 1 goal and a -6 rating over eight games. With the Senators off to a dismal 3-12-8 start to this season, the team has already opted to make some adjustments to their roster, sending Galchenyuk and checking forward Cedric Paquette to the Carolina Hurricanes on Saturday, in exchange for former Senator Ryan Dzingel.
Paquette was brought in by Ottawa from the Tampa Bay Lightning in December to bolster their bottom six, with the Lightning receiving cap relief in the form of Marian Gaborik's contract. A reliable defensive player in his six seasons with the Lightning, the Gaspe Native brought little, if any of those qualities, to Ottawa, posting 1 goal and a -8 rating over 9 games. Dzingle was brought in on a two-year, 6.75$ million deal with the Hurricanes in July of 2019, after posting career highs in points in 2018-19. Expected to bolster an already strong Hurricanes offense, Dzingel instead struggled to find his footing, posting an underwhelming 29 points over 64 games in 2019-20. In acquiring Paquette and Galchenyuk, it's a complete guess as to where they'll slot in a stacked Hurricanes lineup, possessing a solid bottom six rotation and scoring up top. Dzingel's departure technically opens up a slot for either of the two, but it wouldn't be a surprise to see one or both assigned to the taxi squad or even the AHL.
That is, if he ever has the chance to suit up for the Hurricanes. Galchenyuk was placed on waivers today and could find himself on the move once again tomorrow if anyone puts in a claim.
Galchenyuk's fall from being a top prospect to a frequent healthy scratch is something that both fans and analysts couldn't have seen coming. After leaving Montreal, Galchenyuk was given opportunity after opportunity to play a top line role and could simply never answer the call. He frequently found himself in coach Mike Sullivan's doghouse in Pittsburgh, ditto Rick Tocchet in Arizona. In spite of his immense potential, teams just simply don't have the patience anymore, and if his stint with Ottawa this year is anything to go by, Galchenyuk doesn't seem to either. In Carolina, Galchenyuk will be joining one of the NHL's more potent offenses, so the verdict is still out on whether he can turn things around. After year after year of that exact same sentiment though, it seems unlikely, and I wouldn't be surprised if we see Galchenyuk's name on a KHL roster sooner than later.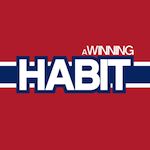 Want your voice heard? Join the A Winning Habit team!
Write for us!
Its an unfortunate situation for what was once Montreal's most coveted prospect, and in spite of some bright spots, thing just simply didn't, and still haven't, worked out. Whether Galchenyuk can turn things around or not remains to be seen, but if these past few seasons are anything to go by, I doubt we've seen the last, of Alex Galchenyuk's travels.