Montreal Canadiens: Victor Mete's Ugly Stat Line Not Due To Poor Performance
Montreal Canadiens defenceman Victor Mete either asked to be traded or never considered asking his general manager such a thing, depending on who you ask.
Mete's agent Darren Ferris was quoted as saying it would be best for the player and the team if a deal was made involving his client.
GM Marc Bergevin flat out stated there was no trade request and Mete was not going to be dealt anywhere this season.
The desire to leave town (if it does exist) stems from a lack of playing time. Mete was a healthy scratch for the team's first eight games, watching newcomers Joel Edmundson and Alexander Romanov establish themselves as quality pieces of the organization's blue line. The added depth has left a former regular in Mete sitting out every night.
That is, until Brett Kulak was sat on Monday night in favour of Mete. The 22 year old was paired with Romanov on the third pairing. If you look at Mete's stat line, it looks like he had a pretty terrible night. The Canadiens dominated the Vancouver Canucks 6-2, and Mete was held pointless, had two penalty minutes and was a -2.
Say what you want about plus-minus as a stat, when your team wins 6-2, you don't want to be -2.
However, if we take a closer look at those two goals, Mete was more of a victim of other player's mistakes and shouldn't be held accountable for the two goals against.
On the first Canucks goal it was a soft, careless turnover by Romanov that led to a break for the Canucks.
🚨 Adam Gaudette
2-1 #GoHabsGo
🎥 @TSN_Sports pic.twitter.com/cE88vFiETN

— Here's Your Replay ⬇️ (@HeresYourReplay) February 2, 2021
As you can see, Romanov tries to make a cross-ice pass that is stoled and Adam Gaudette walks into the Habs zone, flubs a wrist shot that Mete tries to block, and somehow sneaks it past Carey Price who really should have had it. It was a weak wrist shot that fluttered past the goalie and must have fooled him with its lack of velocity.
So, you can certainly blame Romanov for that goal and even wonder why Price couldn't get his glove on it, but it definitely wasn't Mete's fault.
The Canucks second goal was pinned on Mete by many as well. He was in front of his own net when he chose to pressure the puck carrier behind the net. As he did this, the pass was fed out front to a wide open Jay Beagle who scored the Canucks second of the night.
🚨 Jay Beagle
6-2 #GoHabsGo
🎥 @TSN_Sports pic.twitter.com/s8ljIrQgPE

— Here's Your Replay ⬇️ (@HeresYourReplay) February 2, 2021
Again, if we watch the entire sequence, the player who made the pass out front was always Mete's guy to defend. When the puck came to him behind the net, Mete appropriately applied pressure to him and forced him to make a quick decision with the puck.
The fact Jesperi Kotkaniemi chose to skate into the crease and almost run into Price, abandoning his man in front of the net can not be blamed on Mete.
And that is exactly the problem with the plus-minus statistic. Romanov gives the puck away at centre ice, leading to a 3-on-1 on Mete, and they both get a minus for the goal against. Then, Kotkaniemi leaves a man wide open in the slot for a goal, and everyone on the ice, including Mete, get slapped with a minus for that goal.
Even Mete's penalty was quite questionable. The replay clearly shows Jake Virtanen hooking Mete to get better position on the Habs defender. When Mete retaliates by reaching in with his stick to try and lift Virtanen's, he gets called for the penalty.
Who hooked who? 🤔 #GoHabsGo
🎥 @TSN_Sports pic.twitter.com/qaxWUFo5k3

— Here's Your Replay ⬇️ (@HeresYourReplay) February 2, 2021
Questionable officiating in last night's game was actually a huge upgrade from the downright awful officiating we saw for the first few weeks of the season. And Mete's game was much better than the few statistics we have to look at would suggest.
Mete skated well and moved the puck out of his defensive zone several times just by skating it out of trouble. He jumped into the offensive zone aggressively to put pressure on the Canucks defence and controlled the puck well when he had it on his stick.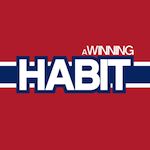 Want your voice heard? Join the A Winning Habit team!
Write for us!
Considering it was his first game since late August, I'd say Mete played quite well last night. Certainly much better than the stats would tell you.