Montreal Canadiens Finally Find ECHL Affiliate
Montreal Canadiens affiliate teams have included the Laval Rocket and that is all for the past several seasons.
That will change soon as the organization announced yesterday that is has reached an agreement with the ECHL franchise in Trois-Rivieres.
Trois-Rivieres was awarded a franchise officially last week, but they didn't immediately announce any affiliations with NHL teams. It seemed to be a foregone conclusion, but nothing was official until yesterday when the affiliation was confirmed. It was also announced that former Canadiens defenceman Marc-Andre Bergeron will be the team's general manager.
Trois-Rivieres is only about an hour away from Laval, where the Canadiens AHL affiliate plays. Not only having an ECHL team in the organization, but one so close to the AHL and NHL teams, will give the Habs a much better pipeline for developing players. It's not every day a former ECHL player becomes a star in the NHL, but it will at least give the Canadiens a place for some more local, young talent to start out their pro careers.
A few recent Habs who were regulars in the ECHL before making it to the NHL include Michael Ryder, Mark Streit, David Desharnais, Jaroslav Halak, Ben Chiarot and Brett Kulak. Laval Rocket assistant coach Alex Burrows also had a lengthy stint in the ECHL.
The Habs could definitely use their own ECHL team for their deep pipeline of goaltenders. Last season, Michael McNiven was forced to be loaned out to ECHL teams of other franchises. He played well, but was often sat in favour of goalies who were playing for their own affiliation.
This season, the Habs may have the same problem. Even with Charlie Lindgren on the taxi squad, the Laval Rocket will have to choose between Cayden Primeau, Vasili Demchenko and McNiven. Having an ECHL affiliate just down the highway would give the organization a landing spot for their 5th goaltender.
We will also likely see plenty of talented QMJHL players and high-scoring University players in the province signing to begin their pro careers in their home province. Young. skilled players looking to play pro hockey may be more enticed to join the Canadiens organization, knowing the worst case scenario is they get sent down to the ECHL and stay an hour's drive from Montreal.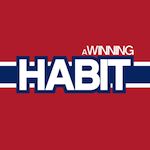 Want your voice heard? Join the A Winning Habit team!
Write for us!
This likely isn't an announcement that leads to the Habs pumping out star prospects at an unprecedented rate. However, the Habs have already benefited from a few players who played at the ECHL level, and this just increases their odds of finding another NHL regular who beats the odds.