The Montreal Canadiens should be one of the teams in on Pierre-Luc Dubois
According to Pierre LeBrun, Pierre-Luc Dubois may want out from the Columbus Blue Jackets, and if that's the case, the Montreal Canadiens should be in on it.
The final day of 2020 brings more and more rumblings from the NHL. It goes beyond offer sheet talk that has been touched on via Mathew Barzal and the New York Islanders. This involves a player in Pierre-Luc Dubois who may not want to be part of the Columbus Blue Jackets organization instead exploring the possibility of a new team. And if that's the case, the Montreal Canadiens should be one of the teams reaching out about it.
The initial buzz came from Pierre LeBrun, who tweeted information that Dubois is not in Columbus. Training camps for teams that didn't participate in the Return to Play have already opened, while playoff teams start on January 3rd. There is still time for Dubois to make his way over, but the fact that he's not there yet skating with his teammates is interesting.
There's also the fact that the Blue Jackets don't have a deal for him yet. Similar to Barzal, Dubois is an RFA, and with all the moves Columbus was making, it looked as if they were clearing space for a new contract. With about $9.2 million in space, there's definitely a means to get some kind of contract on the books with a considerable cap-hit.
And then there was the second part of LeBrun's tweet.
According to the insider, there are rumblings from teams around the league of Dubois possibly wanting out. To use LeBrun's words, a "change of scenery."
There has to be some kind of merit to this with talk picking up this much. LeBrun did say that it's wishful thinking, but teams will start making some serious pitches if it's out there. One of those teams absolutely must be from the Montreal Canadiens.
Pierre-Luc Dubois is the real deal. He's a number one centre who has seen his game progress each and every year he's been in the NHL. And although Dubois is a little grey area, he's shown the variance of his contributions in the playoffs. This is a player Marc Bergevin would want, especially as he's spent the offseason trying to make the team more playoff ready.
The details of a Dubois trade to Montreal would be complicated. A centre would definitely need to go back, and Columbus has every right to try to pry as many NHL-ready prospects and picks as possible. On the one hand, because you have to consider the value of the player involved, but also the salary cap implications.
The Montreal Canadiens are right up against the ceiling, and if a negotiation follows a trade, Dubois' number might have to start with a 6 or even higher. That said, this is just talk.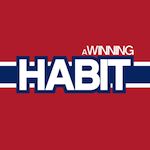 Want your voice heard? Join the A Winning Habit team!
Write for us!
By next week all can be forgotten, and Pierre-Luc Dubois will be on the ice with Max Domi. But if he's not and the possibility of a trade is there, the Montreal Canadiens would be doing themselves a disservice in not trying to make a deal happen.