Montreal Canadiens Most Promising Roster of the 2000's?
Montreal Canadiens roster looks better on paper than it has for years.
The Montreal Canadiens have held the label of mediocrity for as long as I can remember. They have never scarified it all nor have they ever blown it all up. This label of mediocrity is not something that should be attached to a franchise with such a rich history.
However, as another what-looked-to-be failed season passed by, the world was hit with a great pandemic which did not benefit anyone besides the Habs future. As the Canadiens snuck in as a lowly 24th seed in the Return-To-Play format, teams complained about how it would be unfair to play the Canadiens in a best 3-of-5 series with Carey Price in net who could stand on his head once again and take the Canadiens further than they ever should have gone.
The Canadiens were able to find a bonafide star in 21-year-old centreman, Nick Suzuki, and Jesperi Kotkaniemi flourished in what was almost a massive sophomore slump season and just like that the Canadiens breezed by the Pittsburg Penguins with ease.
The Canadiens went on to play a Philadelphia Flyers team that was bigger, stronger and had much more depth than a team who sold parts at the trade deadline with the assumptions of missing the playoffs for a disappointing third straight season. For the first time in a while, the Canadiens future looked surprisingly bright. Jonathan Drouin played some of his best hockey as a Canadiens player alongside Suzuki, Kotkaniemi potted 4 goals in 10 games, the defence core looked big, stable and reliable and Carey Price showed why he is the best goalie on Planet Earth.
Fast forward 6 weeks later and Marc Bergevin was about to have his biggest offseason as General Manager of the Montreal Canadiens…
1) With his first move, Bergevin brought in 6'4 defensemen Joel Edmundson making our d-corp bigger than it already was. (2019 Stanley Cup winner).
2) He filled a glaring need trading for a reliable backup for Price getting Jake Allen from the St. Louis Blues with whom he recently played 5 playoff games after replacing a struggling Jordan Binnington. (2019 Stanley Cup winner).
3) He traded Max Domi who had a disappointing 2019-20 campaign after a career high 72 points one year prior. Bergy shipped him to Columbus for 6'2 right-winger Josh Anderson, filling another glaring need for the Habs, a big scoring winger. Anderson would go on to sign a 7 year, 38.5-million-dollar contract making him a big part of the future.
4) He signed another scoring winger, Tyler Toffoli, who was a key part of the Vancouver Canucks playoff run scoring 14 points in 17 games since joining the team at the trade deadline. Toffoli signed a 4 year 17-million-dollar contract in an offseason where
money was limited due to the hard cap courtesy of Covid 19. (2-time Stanley Cup Winner).
5) Just a couple hours after it was reported contract talks had broken off. Bergy locked up the heart and soul of the Canadiens locker room with Brendan Gallagher, to a 6 year 6.5-million-dollar contract which will hopefully result in him being a Hab for life. Am I forgetting something? Who knows at this point as it seems Bergevin is always making moves.
Finally, the Habs have depth at almost every position for the first time in as long as I can remember watching them and have fans excited for what's to come. Not to forget, the Habs have a prospect pool starring Russian defensemen, Alexander Romanov, a blue-chip prospect that looks to be the future of the Canadiens d-corp and a scoring winger in Cole Caufield, off to another great start in his second season at Wisconsin.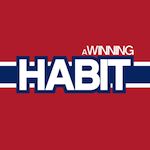 Want your voice heard? Join the A Winning Habit team!
Write for us!
If the Habs can't win in the Price-Weber era, the future still looks bright in Montreal!