Montreal Canadiens Top Prospects Countdown: #7 Jordan Harris
Montreal Canadiens general manager has compiled a long list of prospects. We are counting down the top 30.
Montreal Canadiens general manager Marc Bergevin has focused on the draft for the past three years to build up his prospect pool. He loaded up on picks for the past three years and has another boatload of selections to make next year.
This has led to the Canadiens having a great group of prospects. With the offseason well underway and next season still more of a question mark than anything else, we are digging deep into the future of the franchise.
So, we have been counting down the Canadiens Top 30 prospects.
This list so far looks like this: 30th Jack Gorniak, 29th Jacob LeGuerrier, 28th Otto Leskinen, 27th Rafael Harvey-Pinard, 26th Jack Smith, 25th Jacob Olofsson, 24th Lukas Vejdemo, 23rd Alexander Gordin, 22nd Blake Biondi, 21st Rhett Pitlick, 20th Joni Ikonen, 19th Brett Stapley, 18th Joel Teasdale, 17th Gianni Fairbrother, 16th Cam Hillis, 15th Luke Tuch, 14th Josh Brook, 13th Jan Mysak, 12th Sean Farrell, 11th Cale Fleury, 10th Noah Juulsen, 9th Jayden Struble and 8th Jesse Ylonen.
That brings us to number 7 on the countdown where we find Jordan Harris. There was a pretty wide range of opinions on Harris, especially considering we find him so high up this list. Teddy Elliott had Harris ranked 16th on his list, while I had Harris as the team's 4th best propsect. Scott Cowan put Harris 5th on his list and Sebastian High ranked him 6th.
Harris was a third round pick in 2018. To that point in his career, he was playing Prep School hockey for Kimball Union Academy. He was an assistant captain in the 2017-18 season and scored six goals and 35 points in 37 games.
Harris was committed to Northeastern University at that time and didn't disappoint in his first year of college hockey with the Huskies.
The 5'11" and 180 pound left defenceman scored one goal and 13 points in 39 games as a freshman defender, but asserted himself as a strong defensive player and a great penalty killer in his first season of NCAA Hockey.
The Haverhill, Massachusetts native stepped up big time last season, scoring three goals and 21 points in 33 games, while being an absolute lockdown defender in his own zone protecting leads and killing penalties.
Harris great two-way play caught the attention of USA Hockey as well. He suited up for the Americans at the World Juniors last year, showing off his versatility by moving to the right side and playing a top-four role that focused on shutting down the opposition's best players.
While Harris is adept at skating and moving the puck up ice, his biggest strengths are definitely his positioning defensively and ability to shut down an opposition attack before it gets anywhere near his team's net. He is a budding defensive defenceman who can pass, skate and shoot at the NHL level as well.
Harris is planning on heading back to Northeastern to play a third season of college hockey. However, their season schedule has been delayed a few times, and he is now not scheduled to play a game until December 18th. If a college team is going to wait that long, it becomes pretty easy to just wait until after the New Year so there is a risk it gets pushed back once again.
Once Northeastern finally hits the ice, we can expect to see Harris playing a huge role for the underdog team. He was already on the top pairing for the Huskies last season, and should be playing over 25 minutes per night this coming season. He will get the call in every tough situation and should be able to answer the bell since he has been doing it for two years at Northeastern already.
One more season of college hockey should be enough for Jordan Harris. It is not out of the question to see him playing games at the AHL level for the Laval Rocket before the 2020-21 season is complete. Of course, we don't know what the AHL schedule will look like this season either, so that remains to be seen.
After the upcoming season, it might not take long for Harris to convince Habs brass that he is worthy of time at the NHL level. He does everything well, and some things, especially defensively, extremely well.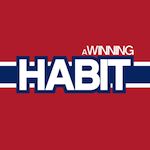 Want your voice heard? Join the A Winning Habit team!
Write for us!
These tools should quickly make him a favourite of an NHL coach and it won't take long for the 20 year old to convince the management of the Montreal Canadiens that he deserves a chance in the National Hockey League.