Montreal Canadiens Top Prospects Countdown: #10 Noah Juulsen
Montreal Canadiens general manager has compiled a long list of prospects. We are counting down the top 30.
Montreal Canadiens general manager Marc Bergevin has been building through the draft for the past three years. It has resulted in the Habs having one of the deepest group of prospects in the league.
So, we have been counting down the Canadiens Top 30 prospects.
This started on November 1 with the 30th spot going to Jack Gorniak. The 29th spot went to Jacob LeGuerrier, the 28th place was taken by Otto Leskinen, 27th went to Rafael Harvey-Pinard, 26th was Jack Smith, 25th was Jacob Olofsson, 24th was Lukas Vejdemo, the 23rd spot went to Alexander Gordin, Blake Biondi came in at 22nd, Rhett Pitlick was 21st, Joni Ikonen began the top 20, Brett Stapley was number 19, Joel Teasdale was 18th, Gianni Fairbrother was 17th, Cam Hillis was 16th on our list, Luke Tuch was 15th, Josh Brook was 14th, Jan Mysak was 13th, Sean Farrell ranked 12th and Cale Fleury was 11th.
That brings us to a bit of a forgotten top prospect in the Canadiens system: Noah Juulsen. While he hasn't played a lot recently, he was one prospect everyone at A Winning Habit had ranked in pretty much the same position. Myself, and Sebastian High had Juulsen 11th on our lists, while Scott Cowan placed Juulsen 9th on his ranking and Teddy Elliott put Juulsen 8th on his ranking of the Habs best prospects.
The 23 year old has had a tough time with injuries over the past two seasons. He started the 2018-19 season with the Canadiens, taking a role that opened up when Shea Weber missed the beginning of the season with injury.
The rugged, two-way, right-shot defenceman played well, but was hit in the face with two pucks in a game against the Washington Capitals almost two years ago. He had four points in his previous five games and was averaging over 19 minutes in the past two contests before his injury.
Then, Juulsen missed a month of games and returned for four before being sent down to the Laval Rocket where he played three more games before recurring headaches and concussion symptoms forced him to miss the rest of the season.
This past season, Juulsen was in training camp on day one, but would soon be removed from action because of his migraines that just wouldn't go away. He played 12 games early in the season for the Rocket, but once again was forced out of the lineup. He finally returned on March 11, but the AHL shut down operations two days later.
That means, in the past two years now, Juulsen has played just four NHL games and 16 games in the AHL for the Rocket.
That is not ideal for a player who is now 23 years old. The best thing for young players is to just play games at any level. Getting into game situations allows them to develop, but sitting out with injuries obviously holds them back from growing on the ice.
Still, Juulsen is young enough, and has shown enough promise in the past, that he remains one of the Canadiens ten best prospects.
The Surrey, British Columbia native was a first round pick of the Habs in 2015. He was taken with the 26th overall selection after a solid second season with the Everett Silvertips of the Western Hockey League. Juulsen scored nine goals and 52 points in 63 games while being a punishing, physical force in the defensive zone.
Juulsen continued to show off his two-way game at both the WHL and AHL level, though points were a little harder to come by in the pro ranks. Even during his 44 career NHL games, he was steady defensively and confident with the puck on his stick moving up ice as well. He possesses a lot of tools that a blue liner needs these days.
At 6'2″ and 198 pounds, he has the size and physicality necessary of a defender at the NHL level. He also has poise with the puck and good skating which everyone needs to be successful in the NHL these days.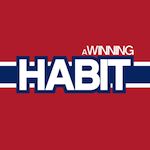 Want your voice heard? Join the A Winning Habit team!
Write for us!
If not for injuries over the past two years, Juulsen surely would have locked down a roster spot with the Canadiens by now. He is going to have to prove himself all over again whenever next season begins, but don't be surprised to see him playing regularly on the third pairing with the Canadiens in the very near future.