Montreal Canadiens: Alexander Gordin Off To Terrific Start in Russia
The Montreal Canadiens took a skilled Russian late in the draft. He's lighting up the MHL.
The Montreal Canadiens have done very well with late picks in recent NHL Drafts.
Jake Evans was a 7th round pick and the team plans on using him regularly this season. Cayden Primeau was a 7th round pick and he is one of the best goaltending prospects in the world. Brett Stapley was a 7th round pick in 2018 and he appears to be following closely in Evans' footsteps with a terrific college career thus far.
Of course, Brendan Gallagher was a 5th round pick, but that was quite a while ago.
The next late draft pick by the Habs to turn into a legit NHL prospect might be Alexander Gordin. The Russian winger was taken with the last of their eight picks in the 2020 NHL Draft. He might have fallen to the 6th round and 161st overall selection, but Gordin possesses a lot of talent.
He played in the Russian Junior League, MHL last season and was among the league's top scorers. He scored 39 goals and 68 points in 59 games for St. Petersburg's Junior squad. This put him in a tie for second in goal scoring in the league and also had him sixth in points.
He was just one point back of Yegor Chinakhov who was taken in the first round by the Columbus Blue Jackets.
Gordin did turn 19 in July, so he was eligible for the 2019 NHL Draft but was undrafted. He had decent numbers in 2018-19, scoring 16 goals and 32 points in 52 MHL games, but Russian players typically need to really stand out in order to be drafted.
There is no question that Gordin is standing out right now. He has played just four MHL games this season, and has already sniped five goals and seven points.
This morning, Gordin scored a hat trick. On his first goal, he set up in the slot and found some open space. He received a pass that was slightly off the mark but kicked it up to his stick and fired a quick snap shot past the goaltender.
Alexander Gordin (MTL) scores vs. Taifun. Nikita Shuidin (2021*) grabs an assist.#GoHabsGo | 🎥 #MHL pic.twitter.com/9hZZCORvaL

— Dylan Griffing (@Dylan_Griffing) October 17, 2020
For his next snipe, Gordin was set up on his off wing on the power play. A great cross-ice pass set him up for a glorious opportunity and he made no mistake hammering the one-timer past the outstretched net minder.
Nikita Shuidin (2020*) plays a sweet pass to Alexander Gordin (MTL). Gordin drops to one knee to score his second goal of the game.#GoHabsGo | 🎥 #MHL pic.twitter.com/dJKY4jGGrx

— Dylan Griffing (@Dylan_Griffing) October 17, 2020
To complete his hat trick, Gordin set up behind his centre on an offensive zone face-off. After the draw he got control of the puck and wasted no time firing a wrist shot into the goal for his third of the game to give him team a 4-2 lead.
Alexander Gordin (MTL) completes his hat-trick vs. Taifun#GoHabsGo | 🎥 #MHL pic.twitter.com/T62f1CcusE

— Dylan Griffing (@Dylan_Griffing) October 17, 2020
These highlights show Gordin's obvious strength which is his shot and ability to put a puck in the net when given very little time and space. His five goals in four games should have St. Petersburg thinking it may be time to promote this young sniper to the VHL or even KHL to give him a chance against tougher competition.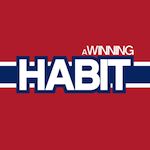 Want your voice heard? Join the A Winning Habit team!
Write for us!
We should get a longer look at this Habs prospect at the World Juniors, as Russia could use someone as skilled and good at putting pucks in the net as Gordin.