Montreal Canadiens are set for their series against the Philadelphia Flyers
The Montreal Canadiens did away with the Pittsburgh Penguins, the next step is the first round against the Philadelphia Flyers, and we have a schedule.
It's been a few days since the final buzzer went off, and the Pittsburgh Penguins' season was over. It was an upset to end all upsets, even with Carey Price in net, but with the Toronto Maple Leafs getting eliminated by the Columbus Blue Jackets, it's time for the Montreal Canadiens to gear up for the first round of the Stanley Cup Playoffs against the Philadelphia Flyers.
The Flyers earned the right to be called the first seed in the Eastern Conference after going undefeated in the Round Robin. The Boston Bruins, Washington Capitals and Tampa Bay Lightning all fell to them in a good display of offence, defence and goaltending.
The first four games of the series are locked in starting with Philadelphia as the home team:
Game 1: Wednesday, August 12th at 8:00 PM (Habs – Away)
Game 2: Friday, August 14th at 3:00 PM (Habs – Away)
Game 3: Sunday, August 16th at 8:00 PM (Habs – Home)
Game 4: Tuesday, August 18th at 8:00 PM (Habs – Home)
Similar to most teams who have participated in this hockey bubble of a season, the Montreal Canadiens will find themselves in a back-to-back. If there is a Game 5, it'll take place the next day at an undetermined day with the Philadelphia Flyers as the Away team.
The last possible day for the series to wrap up would be Sunday, August 23rd.
Back-to-backs in the playoffs don't happen anymore, but the NHL is trying to finish the season by its target date of October 2nd. And if that's to happen, things must be pushed along a bit faster than usual.
The Montreal Canadiens should be fresh as they haven't played a game since eliminating the Penguins this past Friday, and they'll have the jolt of being the underdog once again to drive them.
It'll be interesting to see how this series against the Flyers differs from Pittsburgh. The matchups will be tighter, and the ties of past allegiances via Michel Therrien, Alain Vigneault and former veteran Nate Thompson could push things even further than you're average playoff series.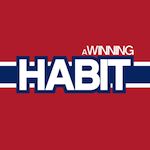 Want your voice heard? Join the A Winning Habit team!
Write for us!