Montreal Canadiens: Otto Leskinen Loaned To Finland to Begin Next Season
The Montreal Canadiens have loaned one of their young prospects back to Finland to begin next season.
The Montreal Canadiens finally played a real live hockey game on Saturday night. It was the first time we saw them play a game that mattered in 145 days. As you could imagine, there was plenty of rust and some players struggled to handle the puck crisply as they usually do.
If 145 days was a long layoff, just think how long the break will be for players who didn't play, and won't play in the postseason for the Habs. The Laval Rocket paused their season at the same time as the NHL, but the AHL doesn't plan on returning anytime before early December.
For a minor league player, that could mean nine months between regular season games. For that reason, the Habs have been trying to find ways to keep these younger players occupied. A handful of them, including Ryan Poehling, are skating with the Habs during this play-in series, but aren't likely to get into game action.
Another idea is to send players to leagues that will be playing before December. A lot of the top European hockey leagues are not going to be idle as long as the AHL. We have seen a handful of players, like Mikko Lehtonen, be loaned out to their home country to begin next season.
The Canadiens announced earlier today that they will be doing the same thing with Otto Leskinen. The 23 year old from Finland is a left shot defender who just played his first season in North America. He played 52 games with the Rocket and scored 22 points. He was also called up to the Habs for a five game stint and got his first taste of NHL action.
Now, instead of sitting around waiting for the NHL and AHL to return in December, Leskinen will head back to Finland and suit up for Kalpa Kuopio. Leskinen played in the Kalpa system since the 2013-14 season, and scored 31 points in 57 games during the 2018-19 season, his last before joining the Canadiens as a free agent.
The Liiga season is scheduled to begin the first of October. Under this agreement, Leskinen would play in Finland until the beginning of the Canadiens training camp, which is tentatively scheduled for November 17, and then he would return to North America for the second year of his two-year contract.
This will give Leskinen a chance to play 12 games or so in Finland before arriving for Canadiens training camp. This should allow the speedy two-way defender a chance to thrive to begin the AHL season with the Rocket.
With Ben Chiarot, Victor Mete and Brett Kulak all signed next season and Alexander Romanov joining the Canadiens in time for training camp there isn't much room for Leskinen on the left side of the Habs blue line.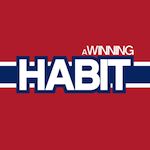 Want your voice heard? Join the A Winning Habit team!
Write for us!
But, with Xavier Ouellet slated to be a free agent this summer, there could be a huge opportunity on the top pairing of the Rocket blue line. With a dozen or so Liiga games in October and early November, Leskinen could be looking at a huge role with the AHL's Rocket next season.