Montreal Canadiens: NCAA's Hockey East Conference Announces They Intend To Play Next Season
The Montreal Canadiens have a pair of prospects playing for Northeastern. Their conference intends on playing next season.
The Montreal Canadiens are back in action with a listless effort in an exhibition game that quickly reminded us of the team we watched from October to March. The global pandemic put the Habs on the shelf for 20 weeks or so, but they were back this week to face the Toronto Maple Leafs and lost 4-2.
The Canadiens are gearing up for a play-in series with the Pittsburgh Penguins that begins on Saturday. The Best-of-5 series will determine which team qualifies for the official first round of the 2020 Stanley Cup Playoffs.
There was some doubt about whether the National Hockey League would be able to complete the 2019-20 season. With the words, "bubble, self-isolation, coronavirus and physical distancing" becoming the most used in the world, it didn't seem possible for a hockey league to return to normal.
The NHL has not returned to normal, but they have found a way to try and complete the season and crown a 2020 Stanley Cup champion. Most other leagues around the world are not so fortunate. In fact, pretty much every other hockey league around the world had to cancel their 2019-20 season without completing their playoffs.
Many leagues are even worried about next season. European leagues seem optimistic about their ability to return next year, but the same can't be said about North American leagues. The CHL would have a heard time playing without fans, but it sounds like they think they can play a more regional schedule and make it work.
The AHL has pushed back a possible start date to December, as they appear to be waiting for fans to be allowed into the building before they start. The Ivy Leagues have announced they won't play college hockey games until at least January 1.
Hockey East has announced its intent to play the 2020-21 season by prioritizing league play in both the men's and women's leagues.

More information can be found here: https://t.co/feAPuSoDF9 pic.twitter.com/W8wdR1DhRX

— Hockey East (@hockey_east) July 29, 2020
However, Hockey East announced yesterday that the plan on playing a 2020-21 season. Details beyond that were pretty limited. They mention there will be more of a priority on league play, meaning they will probably not play many teams outside their own conference.
We still don't know exactly what the schedule will look like, or when it will begin, but it is good news for hockey fans in the northeast United States, and great news for a couple of promising Montreal Canadiens prospects.
Jayden Struble and Jordan Harris play for Northeastern who are in the Hockey East conference. Struble will be entering his sophomore campaign after a solid showing in his first season. The big, physical left-shot defenceman scored three goals and ten points in 21 games. He should play a big role on Northeastern's top four and also be a shutdown defender on the penalty kill.
Harris will surely be the team's top defenceman next season. He was excellent in 2019-20, his second with the Huskies, scoring three goals and 21 points in 33 contests. He will be leaned heavily on in all situations, and could even slide to the right side and form a top pairing at even strength with Struble.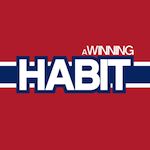 Want your voice heard? Join the A Winning Habit team!
Write for us!
We still don't have all the details, but after the Ivy League announced there will be no games before January 1, it was possible the same news could come for all college conferences. There was no set date to start announced, but Hockey East sounds optimistic that they can play hockey next season and that is great news for Jordan Harris and Jayden Struble.