Would Cole Caufield have made this current Montreal Canadiens roster?
NHL teams are giving their best prospects looks in the Play-In and it would be interesting to see if Cole Caufield would've made the Montreal Canadiens.
Every underdog story has a ringer. Someone a team brings in at the last minute who may have low expectations but winds up making a difference in some way or another. The Montreal Canadiens themselves are an underdog and are looking for an X-Factor against the Pittsburgh Penguins. Other NHL teams who are underdogs in their respective series' are doing the same thing, and it's led to a number of top-ranked prospects getting nods to participate in the Stanley Cup Qualifier.
Dating back to training camp and exhibition games, NHL teams are giving their kids looks on the big club.
The Columbus Blue Jackets added 19-year-old Liam Foudy to their roster ahead of their series against the Toronto Maple Leafs who brought top prospect, Nick Robertson, along for the ride. The same goes for the Dallas Stars are giving 2018 first-round pick Ty Dellandrea a go in the lineup, who looked solid against the Nashville Predators. These teams felt their young players could make a difference and are giving them an opportunity to do so. Which begs the question, why haven't the Montreal Canadiens?
The Habs definitely would've extended that courtesy to Alexander Romanov but the circumstances of his contract signing have left him ineligible to participate. The name that stands out is 2019 first-round pick Cole Caufield.
The 19-year-old had a productive freshman year at the University of Wisconsin putting up 19 goals and 17 assists for 36 points in 36 games. Caufield's lack of production at the World Junior Hockey Championships was a surprise to those who had high expectations of him, but there's still time for him to grow and further develop.
That's why the Montreal Canadiens decided to leave him at the NCAA level for another year. To continue to build more confidence and dominate.
Let's visit a reality where Marc Bergevin signed Caufield to an entry-level contract at the end of the season. If he gets the invite to join the team, does Claude Julien put him in the lineup?
We can assume nothing else has changed between now and then. Romanov still can't play and Julien chooses to stick with his four-line model. Considering Ryan Poehling can't get in the lineup, there is precedence to foresee a scenario where Caufield doesn't. However, there is no way the Habs don't put him in, and if he isn't, they would have a tough time trying to justify it.
Domi and Caufield together on the "fourth line" would be deadly. He wouldn't be as sheltered as most prospects who play that "low" in the lineup considering how deep the Pittsburgh Penguins are, but it could still lead to some magic. Domi shoots but he's a natural playmaker while Caufield is a shooting machine as he was tied for 7th amongst all NCAA players in shots with 140.
He may not have all the NHL dimensions instilled into his game, but Cole Caufield definitely has an NHL release.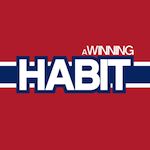 Want your voice heard? Join the A Winning Habit team!
Write for us!
It definitely would've made the Stanley Cup Qualifer more interesting for the Montreal Canadiens if Caufield was around. I don't see a way he isn't on this team if he got his ELC, but crazier things within the organization has happened.