Montreal Canadiens: Carey Price Named Candidate For King Clancy Award
The Montreal Canadiens nominee for the King Clancy Award this year will be Carey Price.
The Montreal Canadiens have won the NHL's biggest awards many, many times over the years. We all know they have won more Stanley Cups than any other franchise, but they have taken home plenty of other hardware as well.
They have often won the Hart Trophy, the Norris Trophy and the Vezina Trophy practically just stayed in Montreal thanks to Bill Durnan in the 1940's, Jacques Plante in the 50's and early 60's as well as Rogie Vachon, Gump Worsley and Charlie Hodge later in the decade and Ken Dryden in the 70's. Patrick Roy, Jose Theodore and Carey Price have all won the award since then.
There are many other awards typically handed out on awards night for the National Hockey League. Though they may not be quite as prestigious as the Hart and Vezina, they represents a players dedication to the game and work in their communities.
One such award is the King Clancy Award. It as awarded each season to: "the player who best exemplifies leadership on and off the ice and has made a noteworthy humanitarian contribution to his community. The Canadiens nominee this season is none other than star goaltender Carey Price.
There will not be an NHL Awards ceremony held this season that looks like the one we have become accustomed to seeing in late June. Price is no stranger to that event as he took home the Hart Trophy, Vezina Trophy, Lester B Pearson Award and William Jennings Trophy in 2015. He won just about every award he was eligible to receive that season.
Price didn't have his best season statistically this year. He won't be on the Hart or Vezina ballot again, but he still could add some hardware to his collection. This time it would mostly be for his work off the ice, and not in the crease for the Habs.
We all remember what Price did for one of his young fans at the 2019 NHL Awards. Anderson Whitehead lost his mother to cancer and Price surprised him by showing up as the young hockey fan was about to present an award. Price handed him a signed jersey and told him he would be going to the 2020 All-Star Game.
This is just one example of Price's generosity. He does work for various charitable organizations throughout the year, especially for the First Nations, Inuit and Metis communities.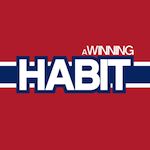 Want your voice heard? Join the A Winning Habit team!
Write for us!
The King Clancy is not the most well-known of the NHL Awards, and Price has his name on the league's biggest awards already. However, it would be nice to see him recognized for his leadership abilities and all the community work he does for young people all across the country.