Montreal Canadiens: Alexander Romanov Clause Likely To Keep Him Out Of AHL
The Montreal Canadiens signed Alexander Romanov to an entry-level contract yesterday. He was a clause in the contract that will keep him out of AHL.
The Montreal Canadiens signed their top defensive prospect yesterday when they agreed to terms with Alexander Romanov. The 20 year old was the team's second round pick in 2018, and though many were surprised when he was picked that early, he has shown he was worthy of the high selection.
In the past two seasons, Romanov was the youngest full-time KHL player, making the deep and talented CSKA Moscow team. They won the Gagarin Cup in 2019 and swept their first round series in 2020 before the KHL canceled the remainder of their season.
Romanov also starred for Russia at the past two World Junior Tournaments. He was named the best defenceman at the event as an 18 year old, and followed that up with another terrific performance this past season. He totalled 14 points in 14 games at those two tournaments, playing a top pairing role in all situations as Russia won bronze and silver medals.
When his season ended in Russia, it was widely rumoured he was ready and willing to sign his entry-level contract with the Montreal Canadiens. However, there were a few bumps along the way as the two sides tried to finalize their deal.
With the global pandemic sweeping the world, there was a moratorium put on any business being done by NHL teams. Then, when the league finally inched toward getting back to business as usual, there was all kinds of drama about signing Russians to contracts.
Normally, once their league ends they are free to sign a contract with an NHL team and have it begin immediately if they wish. Just like when Ryan Poehling signed at the end of last season and played the last game of the year. It burns off the first year of the contract and the player is eligible to play right away.
For some reason, Russians are not allowed to do that for the remainder of the 2019-20 campaign. There was all kinds of back and forth about whether they were allowed to sign at all this season or not. Finally, the players and league compromised and agreed that players could sign right away, but were not eligible to play in games this summer.
It's ridiculous, but it's what was agreed. Also agreed upon in this particular negotiation was a reassignment clause for Romanov. If the Habs decide to send him down to the AHL at any time, he has the option of returning to Russia instead.
As expected, a European Reassignment clause is included in Alexander Romanov contract. For the next two seasons, he has the right to go back in the KHL if he's assigned to the AHL. He also can be recalled by the @CanadiensMTL even if he's playing in Europe.

— Renaud Lavoie (@renlavoietva) July 14, 2020
This makes it difficult for the Habs to send Romanov down during his entry-level contract. Risking having him move back to Russia in the middle of his entry level contract wouldn't be ideal. Still, the Habs would have the right to call him back up at any time, but it's a long flight from Montreal to Moscow.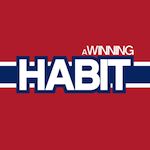 Want your voice heard? Join the A Winning Habit team!
Write for us!
I can't see a player being sent back and forth between Canada and Russia during a season. Which means, this clause almost ensures Romanov will not spend any time in another league outside the NHL. The Canadiens are obviously confident he can be a full time NHL player as soon as next season.