Montreal Canadiens: Lukas Vejdemo Not Returning For Training Camp
The Montreal Canadiens training camp is around the corner but there won't be room for everyone.
The Montreal Canadiens had a disappointing first 71 games of their 2019-20 season. While it was hoped they could compete for a playoff spot the old fashioned way, they fell well short of that goal by accumulating 71 points in the standings in those games.
They should not have a chance at the playoffs with a record of 31-31-9 but we all know what has happened in the past four months or so. With the league set to have 24 teams return for the chance to play for the Stanley Cup, the Habs just barely snuck in to that wide net.
The league has announced news in dribs and drabs for months about who is going to play, where it will take place and how many players will be involved.
One thing that was announced earlier this week, was the limits on number of players and personnel that are allowed to travel with each team inside the bubble one teams move to the host cities. The Habs will begin training camp on Monday in Montreal, but will move to Toronto on July 26 where they will play their play-in series with the Pittsburgh Penguins.
Each team is allowed to bring a maximum of 52 people inside the bubble. No team is allowed to bring more than 31 players. 52 sounds like a big number, but when teams normally carry coaches, athletic trainers, physicians, equipment managers, massage therapists, psychiatrists, chiropractors, security personnel and social media members, they are going to run out of room pretty quick.
Even the 31 players isn't all that many when you consider that the Habs used 38 different players in games this season. The Canadiens did trade Ilya Kovalchuk, Marco Scandella, Nick Cousins, Nate Thompson, Mike Reilly and Matthew Peca so they obviously won't be with the team on Monday.
Another player who played with the Habs this season but won't be reporting to camp is Lukas Vejdemo.
Lukas Vejdemo will stay in Sweden and not return to Montreal for the playoffs/play-in. #Habs

— Patrik Bexell (@Zeb_Habs) July 10, 2020
Vejdemo was a third round pick by the Habs in 2015. He played most of this season with the Laval Rocket of the AHL and scored nine goals and 19 points in 47 games. He was called up by the Habs on December 15 but was a healthy scratch until he made his NHL debut on December 31. He was sent back down, but recalled again after the Canadiens dealt away a few veterans at the trade deadline.
The Swedish forward scored his first NHL goal in the Habs last game before the NHL went into hiatus. In fact, he is the last Canadiens player to score a goal. However, he will not be one of the players suiting up against the Penguins.
It is not certain at this point if it was Vejdemo's decision to stay in Sweden or if the team informed him he would not be traveling to Toronto with them and told him to stay home.
Whatever the case, it does show the teams have to be careful with how many players they invite to training camp. While Vejdemo likely wouldn't get into a healthy Habs lineup, he could have been a decent option if a few players are injured. But, do you really want to invite someone to come from Sweden for training camp for two weeks and then send him back home? Probably not.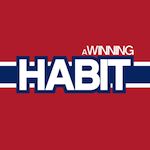 Want your voice heard? Join the A Winning Habit team!
Write for us!
We will finally get a full training camp roster on Monday, but it will be interesting to follow between now and then to see who is not invited back to camp, or if anyone decides to opt out altogether.