Montreal Canadiens: When Are Habs Allowed To Re-Sign Players With One Year Left?
The Montreal Canadiens have plenty of pending free agents following the 2020-21 season. When can they re-sign those players?
The Montreal Canadiens would normally be just hitting the quietest time of the year. The first day of July is usually free agent frenzy when we see players sign overpriced contracts with new teams minutes after they officially hit the open market.
Though there are always hundreds of free agents signed in July, most of them are signed within the first couple days of the month. We might even see a handful of offseason trades, but again, that business would be taken care of on July 1, if not earlier.
Once the dust settles on the first day of free agency, the NHL calendar basically stops. There would still be some signings in the days after the first of July, but by July 8, NHL news is usually moving at a snail's pace all of a sudden.
After that, you might see the odd re-signing. Either pending restricted free agent will re-up with their current team or a player that can be an unrestricted free agent the following summer, will sign an extension to stay with his current squad long term.
So, in a normal NHL season, on July 8, we would be possibly be waiting for news on the Habs agreeing to terms with RFAs Max Domi and Victor Mete, or an announcement of a contract extension with a player that is eligible to be a UFA following the 2020-21 season.
However, this has been the furthest thing from a normal NHL season and on July 8 we are waiting for training camp 2.0 to begin in a few days. With the regular season putting stopped on March 12, everything has been delayed or pushed back. The postseason that would have started in early April, is now going to kick off on August 1 with a play-in series to determine half of the playoff teams.
This has had an impact on literally every date on the NHL calendar. As I said earlier, right now we would normally just be waiting to hear if any player's sign early contract extensions, and the Canadiens could have been pretty busy this month negotiating with players who can be UFAs in 2021.
The list of players who could possibly hit the open market in a year and walk away for nothing is a lengthy one. Phillip Danault, Brendan Gallagher, Tomas Tatar, Joel Armia and Jeff Petry all have one more year left on their deals.
So, if they aren't eligible to sign extensions that begin in the 2021-22 season like they normally would, when will they be allowed to do that? Well, it was a small tidbit among all the announcements coming out about CBA extension talk, but it will be soon:
Some additional points following today's MOU agreement: 1) Players whose contract expires after 2020-21 are eligible to sign a contract exstension that begins in the 2021-22 season three days after the new CBA is ratified.

— Frank Seravalli (@frank_seravalli) July 7, 2020
According to Frank Seravalli of TSN, players will be allowed to sign extensions that begin in the 2021-22 season three days after the new CBA is ratified. It sounds like players will begin voting on the details of the new CBA today and have a 48 hour window to do so. That means the deal should be ratified on Friday. Three days later would be Monday, meaning the same day the Canadiens report to training camp 2.0, they can sign new contract extensions.
Now, the Habs also have to keep in mind every player they re-sign now will have to be protected in the expansion draft that will be taking place next summer. Obviously you can't let them all walk away for nothing because you are scared of losing one of them to Seattle, but there are some creative things the Habs can do to protect more players from an expansion claim.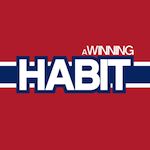 Want your voice heard? Join the A Winning Habit team!
Write for us!
However, with so many key players eligible to become UFAs in a year's time, it is good news that the Habs management will have plenty of time to negotiate deals with these players before they can start thinking about hitting the open market.