Montreal Canadiens: Bob McKenzie Draft Rankings Show Habs Set To Draft Elite Talent
The Montreal Canadiens are currently slated to pick 8th in the NHL Draft, though that could change. Draft rankings show there is plenty of elite talent available.
The Montreal Canadiens don't quite know where they will pick in this year's NHL Draft. Originally scheduled to take place this weekend at the Bell Centre in Montreal, the event has been postponed until at least October and will most likely take place online.
By then, we will finally have figured out how the 2019-20 season concludes. There are 24 teams scheduled to begin training camp on July 10 and we should see the eight play-in series begin in the last few days of July. Then, following those best-of-five series, we will see a more familiar setup with 16 teams taking part in four rounds of best-of-seven to crown a Stanley Cup champion.
The league will not hold its draft until after the Stanley Cup is handed out but they are hosting the draft lottery this weekend. Under normal circumstances, 15 teams would have a chance of winning this lottery and moving up to one of the top three picks. That is still the case, but we won't know who eight of those teams are until after the play-in series which will be sometime in August.
So, instead of having the draft lottery in early August after the play-in round, the league came up with a different plan. They are holding the draft lottery that includes the seven teams that are not returning to play at all, and eight placeholders that will be filled after the play-in series. If one of those placeholders wins a lottery and receives a top three pick, the eight losers of the play-in series will have their names put in a hat and whichever team is picked out will get the top three pick.
Okay, I suppose they aren't using a hat. But the eight teams that lose will have an equal chance of filling that spot if a placeholder wins the lottery.
This means the Habs could pick anywhere from first overall to 31st overall in the first round of the draft. It is possible they could pick in the top three if they are a lucky winner of the lottery after losing to the Pittsburgh Penguins in the play-in series. It is also possible that they go on a run and win the Stanley Cup and select 31st.
The most likely scenario at this point, would be some combination of Ottawa Senators, Detroit Red Wings and a California team end up with the top three picks. That would mean the Habs get the 8th overall selection if they lose to the Penguins. If they beat the Penguins, they would jump all the way to the 16th pick because they would then be considered a playoff team and all the teams that lose the play-in series would get earlier picks. If they go on a run to the Eastern Conference Final they would jump again to the 28th pick. If they lose in the Cup final they would pick 30th.
Got it? Kinda? Well that's better than most understand this draft lottery system.
For the purposes of this piece, let's consider the most likely scenario. The top three picks go to bottom teams that aren't in play-in series and the Habs lose in four or five games to the Penguins. This gives the Habs the 8th overall selection.
At first glance, 8th overall doesn't sound fantastic. That's where the Buffalo Sabres ended up so often and couldn't find a difference maker. Rasmus Ristolainen, Casey Mittelstadt and Alex Nylander are fine players that were all 8th overall picks, but none of them are stars.
That doesn't mean the Habs can't find a future star with the 8th pick. Bob McKenzie released his final draft rankings yesterday. Each year he scours the scouting community and puts together a consensus ranking of the top 90 or so draft prospects. Looking at this year's rankings shows there will be a few great prospects still available with the 8th overall pick.
Lafreniere tops @TSNBobMcKenzie's Final Draft Rankings.

MORE: https://t.co/vwfY5Vjl0U pic.twitter.com/SDELFsblqA

— TSN (@TSN_Sports) June 22, 2020
McKenzie's top ten starts out like everyone's with Alexis Lafreniere at the top. Also sure to be gone by the time the Habs pick are Tim Stutzle, Quinton Byfield and top defenceman available Jamie Drysdale. After that, anyone could fall a few spots, but he has Cole Perfetti, Lucas Raymond and Marco Rossi ranked 5th, 6th and 7th.
Now, this is a ranking and not a mock draft. So we could see someone like the Ottawa Senators or New Jersey Devils, who have multiple first round picks, use one on the top goaltender available and that is Yaroslav Askarov from Russia. If that happens then we would see a great forward like Perfetti, Rossi or Raymond drop and be available with the 8th pick.
If not, and we stick by McKenzie's rankings, the Habs will have a difficult choice to make. Diccifult choices in the top ten of the draft are good problems to have. In McKenzie's rankings, Jake Sanderson is ranked 8th overall and he would be a perfect fit for the Canadiens.
Sanderson is a good sized and terrific skating left defenceman who has all the tools to become a top four, if not top pairing defender in the near future. He is one of the youngest players in the draft since he doesn't turn 18 until next week. He has been the captain of his United States Development Team for the past two years and scored 29 points in 47 games for the Under-18 team this season. His numbers don't quite jump off the page like Cam York's did last season for an American defender, but he also didn't run a power play that had Jack Hughes, Trevor Zegras, Cole Caufield and Alex Turcotte on it either.
Button is asked to choose who is the better skater between Drysdale and Sanderson. He goes with Sanderson, here's his reasoning. Mentions Guhle should be in the conversation with Drysdale and Sanderson as well. pic.twitter.com/HlBN3FjIM9

— NHL Watcher (@NHL_Watcher) June 23, 2020
According to scouts like Craig Button of TSN who was a general manager in the NHL for many years, Sanderson is the best skating defenceman in the draft. He has the size, skating, two-way ability and smarts to be a reliable, if not exceptional defenceman in the NHL.
Also available for the Habs with the 8th pick, according to McKenzie's rankings, would be Swedish winger Alexander Holtz. The right winger is one of, if not the best, natural goal scorer in this year's draft. The Habs may have taken the best goal scorer in last year's draft and though they both play the same position, you can't have too many great goal scoring threats.
Holtz has been excellent for Sweden at various tournaments whether it was the Under-17, Under-18 or even World Juniors this year as a 17 year old. He had 16 points in 35 games in Sweden's top league this year which doesn't sound like a lot, but it was the most by a Junior aged player. He also played three games in the Junior circuit and scored seven goals and nine points.
"A hungry and determined scorer who probes for those opportunities and when they arise, he attacks…"

With the #NHLDraft Lottery in sight, @CraigJButton profiles the top talent…

Today, Alexander Holtz: https://t.co/TG5JGhTAr8#TSNHockey #DraftCentre pic.twitter.com/NZWYj0IFsu

— TSN Hockey (@TSNHockey) June 16, 2020
Jack Quinn is ranked 10th and he scored 52 goals in 62 games for the Ottawa 67's of the Ontario Hockey League. The Habs could get really wild and take the top goaltender, Askarov, who is likely the best goaltending prospect to come along since Carey Price. There is also Anton Lundell, a smart, steady two-way centre who compares quite favourably to Phillip Danault, though he has a little more scoring potential.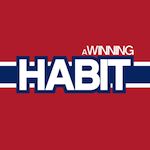 Want your voice heard? Join the A Winning Habit team!
Write for us!
That is all to say, I don't know that I'm cheering for the Penguins to beat the Canadiens in the play-in series. However, if they do, I will be very excited about the next prospect that will join the Habs at the 2020 NHL Draft – whenever that will be held.