Montreal Canadiens: Don't Expect Decision From Cole Caufield Soon
The Montreal Canadiens have a tough decision to make with their best prospect, Cole Caufield. Will he stay another year at Wisconsin or turn pro right away?
The Montreal Canadiens drafted a terrific goal scorer when they nabbed Cole Caufield with the 15th overall selection at the 2019 NHL Draft. It was a surprise that he would still be available that late in the draft after he scored 101 goals in 92 games for the United States National Under-18 team.
He clearly showed he was the best goal scoring threat in the entire draft, but he is short, so lots of old school general managers decided not to draft him. That was just fine with Marc Bergevin who was excited to add Caufield to the Habs prospect pool with a pick in the middle of the first round. You shouldn't be able to get the draft's best goal scorer that late, but there he was.
Fast forward a year and Bergevin has another big decision to make with Caufield. The 19 year old right winger just finished his first year of college hockey with the Wisconsin Badgers. He did not disappoint with his performance during his freshman year.
In 36 games with the Badgers, Caufield scored 19 goals and 36 points. He led the Big Ten Conference in points and was nominated for the conference's top freshman award and their best player award which will be handed out next week. He seems like a lock for the best freshman award and has a great shot at the conference MVP after leading the division in scoring, though his team was the worst team in the conference so maybe that holds him back.
It would be one of the rare times in his career that he was stopped while trying to accomplish a goal. Caufield stepped right into the college game and looked like a third year player on his opening game. He scored twice on opening night and kept that momentum going all year. The only problem was, his team had a lousy record and lost in two straight games in the opening round of the Big Ten playoffs last weekend.
Caufield is now eligible to sign with the Montreal Canadiens if he wishes and Bergevin offers to do so. Bergevin said a few weeks ago that he doesn't think Caufield is ready for the NHL and he would encourage him to go back to school for one more year.
With the struggles of Wisconsin this season, it is possible that Caufield would want to leave. His friend and sometimes lineman Alex Turcotte just signed with the Los Angeles Kings which further weakens a bad team and takes away one of Caufield's best playmaking teammates for next season.
The Badgers were not great defensively and allowed far too many goals against. This was never more evident than their first playoff game when they lost 9-1. Making that worse, K"Andre Miller and Wyatt Kalynuk, two of the Badgers best defensemen are rumoured to be leaving college this summer as well.
Will Caufield want to go back with a depleted team that was bad to begin with? Probably not. Will he want to sign with the Canadiens if he knows the general manager does not intend on having him play in the NHL any time soon? Hard to say.
It is a tough decision for a teenager to decide when is the right time to leave school. The recent hiatus announced from both the NHL and AHL should buy Caufield some time. With no pro hockey games being played in the near future, there is absolutely no rush for Caufield to make a decision.
With the pressure taken off, Caufield can relax and take his time on this decision. Another interesting wrinkle to all this is the announcement of the host team for the 2021 Memorial Cup. Caufield's OHL rights are held by the Sault Ste Marie Greyhounds and they are one of two finalists to host next year's Memorial Cup.
The announcement won't be made until sometime in the middle of April, and if the Greyhounds are picked as the host team, could that convince Caufield to leave college and play one year of Canadian Junior hockey before turning pro?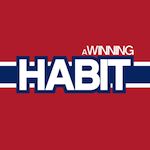 Want your voice heard? Join the A Winning Habit team!
Write for us!
It would definitely be an interesting option for Caufield. He has terrific offensive instincts and his shot is already NHL ready. However, it didn't hurt Nick Suzuki to play in the OHL as a 19 year old so it wouldn't be an issue for Caufield's development either. He has a tough choice to make, but with no games being played anytime soon, I wouldn't expect him to make a decision anytime soon either.