Montreal Canadiens Should Get Karl Alzner Back In The Lineup
The Montreal Canadiens have been using Karl Alzner as a healthy scratch for the past few games. It is time to get him back in the lineup, instead of allowing the veteran to toil in the press box.
The Montreal Canadiens had high hopes for Karl Alzner when they brought him to town. The Habs had just lost in the opening round of the playoffs in 2017, then subsequently lost Andrei Markov to free agency, Alexei Emelin to the expansion draft and Nathan Beaulieu and Mikhail Sergachev to trades.
This decimated their entire left defence and left them scrambling to find replacements. The biggest piece of that puzzle was supposed to be Alzner. The defensive-minded ironman played a shutdown role for the Washington Capitals for the previous seven seasons without missing a single game.
Marc Bergevin signed the Burnaby, British Columbia native to a five year contract with an annual cap hit of $4.625 million.
At his best, Alzner was a minute munching defender who could play against top competition and shut them down while being an anchor on the penalty kill. He was not at his best when he arrived in Montreal and looked like he was towing an anchor at even strength.
Alzner did play every game in 2017-18 for the Canadiens, but they missed the playoffs by a wide margin. The following season, he was made a healthy scratch for the opening game of the year, ending his ironman streak at eight full seasons.
It wasn't long before Alzner found himself on waivers and was then sent down to the Laval Rocket. He played 34 games in the AHL and just nine games in the NHL that year. This season, Alzner was in the minors with the Rocket for their first 53 games. Then, with the Habs battling injuries, Alzner was called up in February to join the Habs more than a year after he played his last NHL game.
Alzner suited up for four NHL games and played fine. He was not terrific, but we don't expect him to be (anymore). Yes, he is getting paid a lot and used to be a much more effective player. However, he is a great veteran to have around the team and can play a simple game for 14 minutes on the third pairing.
Instead, Alzner has been a healthy scratch for four of the past five games. He isn't going to be a fixture on the penalty kill, nor should he be trying to shut down another team's top line anymore, but he could be playing third pairing minutes. Especially for a team that is dealing with injuries and only has 11 games left in their season.
If the Habs were in a playoff race, I wouldn't be advocating for Alzner to get into the lineup. However, with Xavier Ouellet and Christian Folin on the third pairing and not exactly lighting it up, it wouldn't hurt to put a respected veteran of close to 700 games into the lineup.
At the very least, the Habs could mercifully return him to the Rocket where he could help the AHL team try and reel in a playoff spot. It would be better than having him sit in the press box and watch the Habs, a team he has only played four games with this season.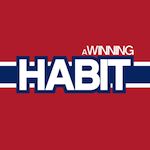 Want your voice heard? Join the A Winning Habit team!
Write for us!
Marc Bergevin may have earned a little goodwill with future free agents by keeping a promise and dealing Ilya Kovalchuk to a team of his choosing. He should continue down that path by not allowing Karl Alzner, the NHL's former ironman, to sit in the press box every night. With the playoffs out of reach, just let Alzner finish off his NHL days with some dignity.