Montreal Canadiens: Missing Out on Matt Duchene Proves Fortuitous
The Montreal Canadiens were rumoured to be interested in acquiring Matt Duchene for years. He ended up with the Nashville Predators and based on his performance, the Habs may have dodged a bullet.
The Montreal Canadiens spent years trying to acquire talented centers to fill a huge void on their roster. For over a decade, the Habs tried, but failed to build depth down the middle of the ice. Tomas Plekanec was a fixture at this time and provided solid two-way play. He just didn't have much support.
Once Saku Koivu and Robert Lang left town in 2009, Scott Gomez and Glen Metropolit were brought in to replace them. This went okay for a year, but then Gomez production fell off a cliff and Metropolit signed in Switzerland. Metropolit was no Art Ross candidate but he was a solid third line center and put up decent production from a bottom six role.
Once Gomez stopped scoring, but continued to cash his enormous paycheques, it became difficult to build depth down the middle. David Desharnais and Lars Eller arrived on the scene as regulars in 2011-12 and while Plekanec and Eller were perfectly cut out for second and third line roles, Desharnais was not the right man for the first line job.
This didn't stop the Habs from trying to fit him there for five seasons. By the time he left and Alex Galchenyuk proved he could not handle the responsibility of playing center at the NHL level, the Habs were left with Phillip Danault as their only option to play on the first line and an aging and ineffective Plekanec on the second line.
This led to them trading a top prospect in Mikhail Sergachev to the Tampa Bay Lightning for left winger Jonathan Drouin and then trying unsuccessfully to convert him to center ice.
The Habs have finally appeared to fix the problem with some young players. They traded for Nick Suzuki and Max Domi and drafted Ryan Poehling and Jesperi Kotkaniemi in the first round of the NHL Draft. They still have Danault and also have Jake Evans just cutting his teeth at the NHL level. For the first time in over a decade there is some depth and promising youth at the position.
Throughout much of this time, the Habs were rumoured to be interested in just about every center that became available. One such player that routinely was connected to the Montreal Canadiens was Matt Duchene.
Duchene was first connected to the Habs about three years ago when the Canadiens were on their way to a division title in 2017, but had Danault playing center on the top line with Max Pacioretty and Alex Radulov. It seemed a like a perfect fit for Duchene to slide in as the team's top center.
Duchene did not end up in Montreal then and when he was eventually traded to the Ottawa Senators early the next season, it became obvious why Marc Bergevin declined to make a deal. The Haliburton, Ontario native was traded in a somewhat complicated three-way deal, but the Senators essentially gave up Kyle Turris, a first round pick in 2019 that became Bowen Byram, Shane Bowers, a third round pick and Andrew Hammond.
If the Habs were going to acquire Duchene at that time, we are talking about moving Danault, a first round pick that became Cole Caufield, a third round pick and another solid prospect. No thanks.
The very next season, Duchene was on the move again. There were plenty of rumours about the Habs again but this time he went from Ottawa to the Columbus Blue Jackets. Duchene was a pending unrestricted free agent so he was a rental. Still, Columbus gave up a first round pick which became Lassi Thomson and a couple of good prospects in Vitali Abramov and Jonathan Davidsson.
The Canadiens were battling with the Blue Jackets for a wildcard spot at that time. The Blue Jackets got Duchene and got the wildcard spot, while the Habs missed out on the playoffs. They did get to keep their first round pick which became Caufield and all of their other prospects.
The Habs were linked to Duchene a third time when he finally became a free agent on July 1, 2019. They were in the running with the Nashville Predators and by all accounts were the runners-up for his services when he chose to go to Nashville.
Duchene signed a seven year contract with the Nashville Predators with a cap hit of $8 million per year. In the first year of that monster contract, the 29 year old has 13 goals and 42 points in 65 games. That is basically Phillip Danault's offensive production, without the great defensive play for $8 million until Duchene is 36 years old.
Again. No thanks.
The Predators come to town battling for a playoff spot and have been hot recently. They started the year slowly and are looking to take two points from the Habs tonight to get back into a wildcard spot.
The Canadiens might be a little closer to a wildcard spot themselves had they signed Duchene last summer. However, he would be taking center ice duties away from Nick Suzuki who is developing into a fine two-way pivot and it would have come at a terribly high cost.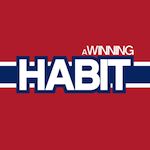 Want your voice heard? Join the A Winning Habit team!
Write for us!
The Canadiens decided to pass on the high asking price for Duchene twice when he was traded and then either passed on his contract demands or were outbid for his services. Either way, the Canadiens are fortunate to have missed out on Duchene who is one of the most overpaid players in the league in year one of his seven year contract.