Montreal Canadiens Charlie Lindgren Auditioning For Next Year's Backup Role
The Montreal Canadiens have not had a reliable backup goaltender for a number of seasons. With Carey Price getting older, the Habs have to find a way to lessen his workload. Charlie Lindgren will get a chance to show he can do it next year.
The Montreal Canadiens have not had a backup goaltender that was capable of pushing Carey Price for starts since Jaroslav Halak was traded in June of 2010. They have had some decent backups like Peter Budaj, Alex Auld and Al Montoya. These were veterans that knew their status as Price's backup and filled in well when they were called upon.
This is an underrated part of a good hockey team. More and more NHL teams are moving away from one started who carries the load by starting 65 or more games in a season and they are relying on their number two options more than ever.
Ben Bishop of the Dallas Stars was a Vezina Trophy candidate last season. So was Robin Lehner of the New York Islanders. In fact, they finished second and third in voting for the league's top goaltender award and they both played just 46 games. Even the goalies having the best year are sitting on the bench for nearly half the season.
This has not been the case in Montreal. While Auld, Budaj and Montoya adequately supported a young Carey Price, they did not need to play many games. Price was in his prime, was between the age of 21 and 27 and was capable of shouldering a heavy workload. Now that he is 32, he can't necessarily perform at the same level as often as he did a decade ago.
At the same time, Price has suddenly not had a reliable backup in a few years. As a result, Price leads the league in games played by a netminder this season and perhaps not so coincidently, saw his numbers take a sharp decline in February.
Keith Kinkaid was supposed to his reliable second fiddle. However, after five starts and a save percentage of .875, he was placed on waivers and sent to the Laval Rocket. After struggling there, he was lent out to the Charlotte Checkers who lost both of their goaltenders on the same day when they were simultaneously recalled to the Carolina Hurricanes to fill in for injured James Reimer and Petr Mrazek.
Last season, Antti Niemi was tasked with being the backup goaltender in Montreal and he dropped the ball as well. He played 17 games and had a 3.78 goals against average to go with his .887 save percentage. This meant Price had to start the second most games of anyone in the league and he was leaned on heavily down the stretch as the Canadiens tried to chase down a playoff spot.
The year previous to that, Montoya was expected to be the backup after a decent 2016-17 campaign. Montoya struggled early on and the Habs claimed Niemi off waivers to fill in. The Finnish goaltender had washed out in Florida and Pittsburgh but played well down the stretch for the Habs and earned the number two role to begin the following season.
Now, Lindgren will try to do the same thing. If the offseason began today, one of the most important things on Marc Bergevin's to do list would be to find someone that can backup Price. They need someone capable of playing at least 25 games so Price is not overplayed throughout the year and exhausted when the playoff chase heats up.
With 13 games left in the schedule, the Habs are turning to Lindgren again tonight. This will only be his fifth start of the year, but it is his second straight Saturday night appearance, and gives him two starts in the last four Habs games. The Canadiens beat the Carolina Hurricanes in overtime last Saturday with Lindgren making 30 saves in the victory.
Lindgren made some big saves, including a last second glove save that extended the game to overtime and eventually to two points for the Habs. On the other hand, he probably should have stopped the first two goals that were wrist shots from the blue line that he lost track of on their way into the back of the net.
Lindgren has only played 21 games this season. He split time with Cayden Primeau in the AHL and played 16 games there while putting up a 2.67 GAA and .893 SV%. In five games with the Habs, he has a 3.37 GAA and .884 SV%.
With numbers like that it will be an uphill climb for Lindgren to solidify a role on next year's Habs. He is signed through next season with a paltry cap hit of $750,000. That would give him the inside track, but there are some intriguing options available as free agents, like Anton Khudobin and Jaroslav Halak. They could come in and easily play 30 games, keeping Price as fresh as he has ever been in his NHL career.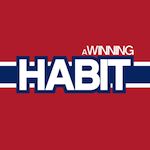 Want your voice heard? Join the A Winning Habit team!
Write for us!
With 13 Habs games left to play and Lindgren getting his second start in four games, he is getting a longer look than ever before. He will likely start five more games after tonight. If he is terrific, the Habs just may decide to keep him as their backup. A couple of more bad games and this will be the end of the line for him in the Habs organization.