Montreal Canadiens Prospect Cole Fonstad Leading WHL in Assists
The Montreal Canadiens have a deep prospect pool. One later draft pick that is exceeding expectations is Cole Fonstad in the Western Hockey League.
The Montreal Canadiens have loaded up on draft picks the past three years. In the 2018 NHL Draft, they made eleven draft picks. Last year they added ten more prospects to the pipeline. They host the upcoming NHL Draft in June and currently hold 14 selections for that weekend.
That is a whopping 35 draft picks in three years, assuming they keep their 14 picks. Heck, they could trade down a couple times in the middle rounds and add even more than the 14 picks they currently have. We have seen general manager Marc Bergevin pull that move a few times already recently so why wouldn't he continue to add more picks?
In 2018, the first year of this influx of draft capital, the Canadiens drafted Jesperi Kotkaniemi with the third overall choice. They had a trio of picks in the second round and picked up Alexander Romanov, Jesse Ylonen and Jacob Olofsson as they swept across Europe to find prospects in Russia, Finland and Sweden.
They came a little closer to home later in the draft taking Cam Hillis and Allan McShane from the Ontario Hockey League and Jordan Harris and Jack Gorniak from America. With their ninth pick of the draft, in the fifth round, the Canadiens selected a skilled forward named Cole Fonstad out of Prince Albert of the Western Hockey League.
Fonstad had just played his second season with the Prince Albert Raiders and scored 21 goals and 73 points in 72 games. Those are pretty solid numbers for someone who falls to the fifth round of the draft, especially from a tough, defensive-minded WHL.
Fonstad had another fine season last year, but didn't improve his offensive production all that much. He scored 73 points once again, though he upped his goal total to 29 and did it in 67 games this time. He was playing on one of the best teams in Canada, so he wasn't always called upon to play on the top power play and with the top scoring players on the team.
The Estevan, Saskatchewan native started this season with the Raiders once again and had nine points in his first nine games. He was then traded to the Everett Silvertips in a bit of an odd deal as the Raiders still have a good team and made a significant downgrade by trading Fonstad for Reece Vitelli. They did add second, third and fourth round picks as well as Vitelli, but they will regret moving Fonstad when the playoffs begin in a couple weeks.
Fonstad is doing his best to show the Raiders they should regret moving him. He has been exceptional for the Silvertips and is leading the way offensively for one of the top teams in Canada. Everett is currently one point back of the Portland Winterhawks for first place in the WHL standings, and Fonstad leads the team in scoring.
Not only does Fonstand lead the team in scoring, he leads the entire WHL in assists with 58 in 57 games played. He is a creative, playmaking winger and has his skills on full display with the Silvertips who ranked fourth in the most recent CHL Top Ten rankings. They will certainly be a team to keep an eye on as the race for the Memorial Cup heats up with CHL playoffs starting later this month.
The Silvertips are catching fire at the right time, having won ten straight games and they only have eight more to play before the postseason begins. They will be counting on Fonstad's offensive abilities and experience to help lead them on a deep run.
The Canadiens prospect has been remarkably consistent since arriving in Everett, only being held scoreless in six of his 48 games with the team. After a disappointing playoffs last season saw him score just six points in 21 games while dealing with injuries, Fonstad will be looking to redeem himself with a huge performance in the postseason for the Silvertips this spring.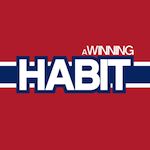 Want your voice heard? Join the A Winning Habit team!
Write for us!
If his regular season performance is any indication, he should be among the playoff scoring leaders. Then, it will be on to the Laval Rocket next season to see how his playmaking abilities translate to the professional level.