Laval Rocket: Alexandre Alain adjusting to AHL game nicely
The Montreal Canadiens will not be in the playoffs but a tough end stretch ahead will determine the Laval Rocket playoff fate. Alexandre Alain is discovering his game at the perfect time.
In my opinion, Alexandre Alain has been one of the more interesting discussion points for the Laval Rocket as of late.
The 6'01 centre, signed by the Canadiens as an undrafted free agent 2 years ago, was seen as more of a conversation piece at the time than a legitimate prospect for the team, which in retrospect is understandable. At first glance, Alain looks like your standard overager, a group of players I have talked about previously with my story on Aaron Luchuk. After posting ok at best numbers in the QMJHL leading up to his final season, Alain posted 87 points in 65 games as a 20-year-old alongside current Habs prospect Joel Teasdale and current Tampa Bay Lightning prospect Alex Barre-Boulet.
While Alain signed as an undrafted free agent of out of junior, Canadiens GM Marc Bergevin underwent some scrutiny for not acquiring Barre-Boulet, a Quebec native who posted 116 points in his overage season, despite standing just 5'07. Subsequently, he signed both his line mates, Teasdale and Alain, who still looked like they could add depth in Laval at least.
While Teasdale is out for this season after tearing ligaments in his MCL and ACL during an on-ice session, Alain managed to step in as a depth contributor for a offensively starved Rocket team last year, posting a solid 28 points in 72 games.
I was able to catch a better look at Alain during the Canadiens development camp this past June, and he impressed me with his size and skating, despite needing work on his puck handling abilities. With top producers for the team Riley Barber and Phil Varone both being traded, Alex Belzile on the injured reserve, and Jake Evans on callup to Montreal, the play of depth guys like Alain will make or break the Rockets playoff hopes.
Showing a lot more confidence, Alain seems to be answering this call as of late, currently riding a 5-game point streak, demonstrating an impressive shot and awareness around the net, something similar players like Yannick Veilleux and Laurent Dauphin have also used to their advantage. Still sitting 3 points out of the final playoff spot with a 5-5 record in their last 10 games, the Rocket need these kinds of offensive performances to compensate for their defensive play, especially with their lack of offensive firepower at the moment, something which hurt the team greatly last season.
With 11 goals and 12 assists in 58 games, Alain is on pace to equal his production last year, but if he keeps up the scoring pace he is on at the moment (which is admittedly unlikely) he has the chance to surpass it, and possibly reach 15 goals on the season. Currently he's flanking Dauphin and Joe Cox on the team's 3rd line, but there's a chance he could see 2nd line minutes if he can outplay recent acquisition Jake Lucchini.
With a 5-2 win over the Cleveland Monsters last night, the Rocket continue to refuse to be left out of the playoff picture, now sporting a respectable 28-24-5-3 record. They continue to outplay teams far better than them on paper and have ridden some hot streaks and production across the roster to a surprisingly competitive season thus far. If guys like Alain and Veilleux can keep up their production as of recently, we could see a Canadiens affiliate in the playoffs once again, which would be a first for the Laval Rocket.
Of course, this all remains to be seen, but with the Canadiens in the end stretch of a muddy, mediocre season, the Rocket can at least gives Habs fans something to truly get behind as the AHL playoffs loom nearer and nearer. It's been an up and down start to the Laval Rocket's history, but there is a good chance it could finally see something positive.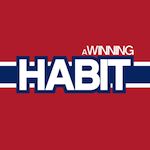 Want your voice heard? Join the A Winning Habit team!
Write for us!
Alexandre Alain could be a big reason behind that.