Montreal Canadiens Not Going To Rush Cole Caufield To NHL
The Montreal Canadiens will have to make a decision soon on whether they will sign Cole Caufield or have him play another year of college hockey. It sounds like they plan on bringing their young prospects along slowly.
The Montreal Canadiens have been quick to push prospects into the National Hockey League lately. It is not so much that they have rushed them into the league, but at the first sign of readiness, they give that young player an NHL job.
They allowed Jesperi Kotkaniemi to play a full NHL season after being the third overall draft pick in 2018. He was not expected to make the jump immediately to the NHL, but he did play well in training camp and the team decided to keep the slender 18 year old centre with the big club the whole season. He had his ups and downs throughout the year and was a healthy scratch a few times, but avoided demotion all year.
They did the same with thing with Ryan Poehling earlier this season. He looked good in training camp but was injured. When he recovered from his injury he played a handful of games with the Laval Rocket, but as soon as he put together a few good games, he was called up to the big club.
Nick Suzuki was not expected to jump from the Ontario Hockey League last year to the NHL in October, but a strong camp convinced the Habs otherwise. Suzuki struggled a bit early on but has grown leaps and bounds with the Canadiens this season and looks like a terrific top six option for the foreseeable future.
The other two? Not ready quite yet. The Habs finally admitted on the first of February that it was time to send down some young players to let them develop at a league below the NHL. Kotkaniemi and Poehling have been in Laval ever since and it is the best thing for their long term development.
Another top prospect is going to be coming along shortly and it sounds like he will not be rushed into the NHL. Marc Bergevin did an interview with Mathias Brunet of La Presse, and one of the takeaways was that the Habs will try to convince their top prospect, Cole Caufield, to remain at Wisconsin for another year.
Caufield will play the final regular season game of his freshman year with the Wisconsin Badgers tonight. They are in last place in the seven team Big Ten conference and will begin playoffs next weekend. They will enter the best two out of three weekend as a big underdog against whoever finishes second in the conference.
Caufield's season could come to a close by next Saturday and if it does, he would be eligible to sign an entry-level contract with the Canadiens. He could then play with either the Laval Rocket or the Canadiens.
Bergevin's comments and his actions with some young forwards lately, suggest that Caufield will not be making his NHL debut this season. If Caufield is set on leaving college hockey, Bergevin mentions the team could sign him and then send him to the Laval Rocket.
It would be interesting to watch how he translates to the AHL level at 19 years old. He is a small, but extremely skilled forward and Bergevin believes he is not ready for NHL hockey just yet. If he does sign, he would be joining a team that has Poehling, Kotkaniemi and just added Jesse Ylonen from Finland, a second round pick of the Habs in 2018.
It would make for some fun games down the stretch for the Laval Rocket with all of those top prospects playing big roles. However, it sounds like the Habs want Caufield to stay in school for another year. Being patient with young players is never a bad idea.
Caufield has been great at Wisconsin, leading all first year players in the country with 19 goals and 35 points in 33 games. You could say he has already dominated the college level, and you would be correct. However, it certainly didn't hurt Quinn Hughes to return to Michigan for a second season after scoring at nearly a point per game pace as a freshman defenseman.
Hughes is an undersized defender who is going to finish top two in the Calder Trophy voting for rookie of the year in NHL as he is on pace to score 65 points for the Vancouver Canucks this season.
The Canadiens should take the same approach with Caufield. Is he ready to contribute at the NHL level right now? He could probably contribute. Is he ready to dominate? No, at least not yet. Give him another year in college where he can be even better offensively and get more work done in the gym to get physically prepared for the rigours of an NHL season.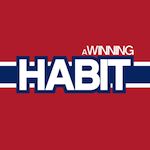 Want your voice heard? Join the A Winning Habit team!
Write for us!
And hey, maybe with a different coach, Caufield will actually get to play with Alex Turcotte or Trevor Zegras, actual playmaking centres, at the World Juniors next year.