Montreal Canadiens: Ben Chiarot's quiet blue line goal-scoring
The Montreal Canadiens have been getting a lot of goal-scoring from their defence, including Ben Chiarot, who has quietly built a new career-high.
Ben Chiarot seemed to be the Plan B for the Montreal Canadiens in their attempt to improve the blueline as the deal came three days after Free Agency opened. Chiarot was a reliable defenceman for the Winnipeg Jets, but expectations were low on him. The consensus was that he would be a good partner for Jeff Petry on the second pair, but not someone who could see top assignments against top competition or produce as much.
It's been seven months since then. The Montreal Canadiens are fighting for their playoff lives, and Chiarot is on the top pair with Shea Weber. What's even more shocking to those not paying attention to the team is his offence.
The 28-year-old has never scored more than 20 points in an NHL season. He hit 20 last year with the Jets putting up 5 goals and 15 assists in 78 games. Chiarot is on pace to surpass that number significantly as he's already hit that milestone in 17 fewer games.
The manner of his production is different from last season as his 20 points are composed of 9 goals (tied with Jeff Petry) and 11 assists. Where did this come from?
The rate of helpers Chiarot gets hasn't changed much. He's always been one add primary assists when he could, but the increase in goal scoring is coming with an increase in time on ice (TOI) as well as shots and shot attempts.
Chiarot's average TOI has jumped from 18:37 to 23:26. The extra time and usage have allowed him to get more opportunities for better shots improving his on-ice expected goals. As far as chances on net, Chiarot went from 111 shots on 231 shot attempts to 122 shots on 264 shot attempts. He does have an elevated shooting percentage, which is above his average (7.4% vs. 4.5% on an average of 4.7%).
The shooting percentage may indicate that the offence isn't sustainable, but his on-ice PDO is comforting at 0.987. If Chiarot was at say a 1.03, then we could talk of the possibility of this being luck, but there's a method to the madness here.
Chiarot is also getting more shots from different and more dangerous locations. With the Jets last season, the majority of his shots (72%) came from the point, as you'd expect. This season, Chiarot's shots are still mostly coming from the blue line (57%), but there's more from the right circle (14% vs. 5%) as well as in front of the net (9% vs. 2%).
It's encouraging that Chiarot hasn't developed a reluctance to shoot despite playing with Weber and Petry, who generate offence themselves. All of it is coming together and working to his advantage such that he could easily hit double digits in goals for the first time in his career. In fact, there's a good chance the Montreal Canadiens can have three defencemen to do so.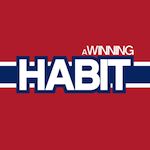 Want your voice heard? Join the A Winning Habit team!
Write for us!
More attention needs to be brought on Chiarot's season considering how lukewarm the response was to his entry to the team. He may not be a legitimate number one defenceman, but Chiarot is doing his part, and his overtime winner in Thursday's win against the Washington Capitals is proof of that.
Advanced Stats from Natural Stat Trick.