Montreal Canadiens trade Marco Scandella to the St. Louis Blues for picks
The Montreal Canadiens are in the trade market, sending Marco Scandella to the St. Louis Blues in exchange for draft picks.
The first stone has dropped for the Montreal Canadiens ahead of the Trade Deadline. After making the moves to acquire Marco Scandella and Ilya Kovalchuk, it was believed that both could be players to help them improve or earn them additional assets at the end of February. We don't know what Kovalchuk's fate will be ahead of Monday's deadline, but Scandella, on the other hand, now has a new home in a new conference.
Scandella will be joining the St. Louis Blues for the remainder of the season as they venture off on another run at a Stanley Cup. In exchange, the Montreal Canadiens will be adding a 2020 second-round pick as well as a conditional fourth-round pick in 2021.
It's an upgrade on picks for the Habs, who originally acquired the veteran defenceman from the Buffalo Sabres in exchange for a fourth in this year's draft.
Scandella dressed for 20 of Montreal games this season, scoring a goal and two assists while averaging over 17 minutes a night. He spent most of the time playing in the depths of the team's blueline but was a stabilizing presence opposed to Ben Chiarot's offensive generation.
The Blues shore up their defence corps for the playoffs joining a blueline that already has the likes of Alex Pietrangelo, Colton Parayko, Carl Gunnarson, and Justin Faulk while the Montreal Canadiens replenish and improve a draft pick and possibly have the option to add an additional next year. This deal for St. Louis also gives them an opportunity to replace the hole left by Jay Bouwmeester, who is out of the lineup after a cardiac episode.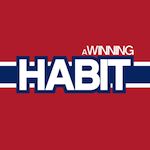 Want your voice heard? Join the A Winning Habit team!
Write for us!
It's possible this deal is one of many to come for the Montreal Canadiens. This may not officially confirm them as a selling team, but it sure is a step in the direction of being considered as such.