Montreal Canadiens: Cole Caufield Surpassing Sky-High Expectations With Weak Wisconsin Team
The Montreal Canadiens were ecstatic to draft Cole Caufield 15th overall. Expectations for him were sky-high among Habs fans and he has been even better than expected for a struggling Wisconsin team.
The Montreal Canadiens 2018-19 season ended up exactly where no team wants to be at season's end. They had 96 points but it wasn't enough to qualify for the postseason. It left them just outside the playoff picture, meaning they would not enter a playoff series, and they would also not enter the NHL Draft until the first round was half over.
This is supposed to be the worst place to be for a franchise. You don't get to play playoff games, but you also miss out on the elite talent at the top of the draft. Unless, of course an elite player somehow falls to you in the middle of the first round.
That is exactly what happened for the Canadiens last June. A lot of mock drafts had the Habs targeting a left defenseman with the 15th pick like Cam York, Ville Heinola or Thomas Harley. No one expected Cole Caufield to be available to Montreal without them giving up a quality asset to move up to the top ten.
But there he was, sporting a Canadiens sweater and an ear to ear smile on the stage with Shea Weber, Marc Bergevin, Trevor Timmins and the rest of the Habs management team. If Caufield were four inches taller, there is no way he slips to the middle of the first round.
Caufield's goal scoring exploits were second to none entering his draft. He set records for goals with the United States National Development Program. He dominated the World Under 18 Tournament, setting goal scoring records there as well.
HIs skating and quickness are big strengths, his stickhandling is world class and his shot is already one of the best in the world. The only downfall for Caufield is his height. In a game that increasing relies on speed and skill instead of muscle and brawn, it is odd to see so many scouts still overlook short players. It may be odd, but it will greatly benefit the Canadiens.
As soon as Caufield was drafted, Canadiens fans began drooling about his goal scoring abilities. The name mini-Ovechkin was thrown around most of the summer and fantasies of him playing on the Habs power play and being set up by Jesperi Kotkaniemi and Jonathan Drouin for one-timers for the next decade had Habs fans positively giddy with anticipation.
It would be almost impossible for any teenager to live up to that hype. How do you possibly go from the greatest goal scorer in American development program history and keep up with the expectations of the biggest fan base in the National Hockey League?
Not to worry Habs fans. Not only has Caufield matched out outlandish expectations, he has surpassed them. During his first year with the Wisconsin Badgers, Caufield has been one of the few bright spots on a disappointing team.
Wisconsin entered the season with high hopes after recruiting Caufield, Alex Turcotte and Dylan Holloway. They enter this weekend's games against Penn State with a 5-14-1 record in the Big Ten Conference. Penn State currently leads the conference so it will be a difficult weekend to turn things around.
The Wisconsin Badgers struggle as a team to play sound defence and as a result allow far too many goals against. It has been their Achilles heel all season. They had high expectations for themselves this year but have fallen far short of reaching them.
One player who can not be blamed for their tough year is Cole Caufield. The Habs prospects has played all 28 games so far and has 32 points. He leads all Freshmen in the nation in points and is tied for 15th in the entire NCAA. Even more impressive are his 18 goals which rank him third in the country and are five more than any other first year player.
Caufield's strengths have been on full display in his first year of college hockey. It can be a tough transition for many players, but Caufield looked immediately comfortable scoring two goals in each of his first three games with the Badgers. In his last three games, he has six points.
Caufield hasn't gone more than two games without recording a point and has been consistent all year. This isn't a case where he has had a couple of huge weekends against weak opposition and struggles against the big clubs. He shows up every weekend, is dangerous with the puck and has a terrifying presence on the power play.
Not only has Caufield put up huge numbers, when you watch him play you start to think he should have even more points. He seems to be excellent at making the last second move in the slot to get open, but he doesn't always get the puck when he is open. He doesn't need a lot of time or space to fire a wrist shot or wire a one-timer into the top corner. I just don't think some of his college teammates can quite think the game on the same level.
There are lots of times when I watch Wisconsin that I see a Badger carry the puck in the offensive zone. Just as he cuts around the net or goes wide on a defender, Caufield fakes one way and dodges a defender in front and gets open for a few seconds. But the puck never arrives. It makes me wonder what would happen if Jonathan Drouin and Nick Suzuki were on the ice with him and actually hitting him on the tape when he does get open for even half a second.
With Wisconsin struggling, their season could be over in early March. Caufield will have a difficult decision to make at that time. Will he sign with the Canadiens and turn pro after one college season? Will he elect to wait it out and play another year with the Badgers after such a disappointing freshman season?
It is hard to say what the right path is for Caufield. If we learned anything from the Jesperi Kotkaniemi experience, it is that you don't need to rush prospects to the NHL level. Patience is a virtue. Speaking of Kotkaniemi, it would be interesting to watch him on a line with Caufield in Laval next month.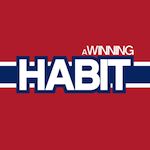 Want your voice heard? Join the A Winning Habit team!
Write for us!
It could happen. With the way Caufield has surpassed the extraordinarily high expectations placed on him, I wouldn't be surprised to see him all over the scoresheet at the AHL level. We may get a chance to see that in about four weeks time if Caufield decides to leave college.