Jake Evans gets his opportunity with the Montreal Canadiens
With the increased number of bodies on the Montreal Canadiens roster, Jake Evans finally gets his opportunity to debut with the team.
The phoenix effect has come to the Montreal Canadiens as something is born from an unfortunate end. In a week where the Habs could've seen both Jonathan Drouin and Paul Byron return to the lineup, fans were met with more negative news that Shea Weber and Jordan Weal are out. And to make matters worse, Ryan Poehling and Tomas Tatar are questionable for the Anaheim game, but that's left a window for Jake Evans to make his debut.
Evans has been a player who fans have wanted up with the team after an impressive training camp. He had some solid performances in the preseason connecting with Riley Barber and scoring the game-winning goal against the New Jersey Devils (clip).
Since then, the likes of Barber, Ryan Poehling, Lukas Vejdemo, Charles Hudon and Matthew Peca have been called up ahead of him. Now he gets an opportunity to show what he can do in a Habs uniform.
Evans is currently leading the Laval Rocket in scoring with 12 goals and 22 assists in 48 games. Improvement is the theme here as the 23-year-old is 11 points from his total production in his debut year. He's spent the season playing on the team's top six not only killing penalties but also on the power play with two goals in both situations.
With Weal out, Evans has an opportunity to play in the top-nine most likely with Max Domi and Artturi Lehkonen.
The Habs also recalled Laval Rocket captain Xavier Ouellet earlier, who is having a productive year himself with 9 goals and 15 assists. Ouellet is no stranger to the Habs as he made the team out of camp last season, playing on the bottom pair with Jordie Benn.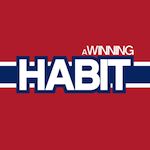 Want your voice heard? Join the A Winning Habit team!
Write for us!
It's going to be a great opportunity to get Evans in some NHL games. As moves are made, and vacancies are created, the Montreal Canadiens will need to know who they can insert into the lineup. Evans finally has his chance to prove he should be an option on a long-term basis.