The Montreal Canadiens place Shea Weber on the injured-reserve
The injury bug makes it's way back on the Montreal Canadiens table as the team places Shea Weber on the injured reserve with a lower-body injury.
Just when the Montreal Canadiens were on the verge of getting Jonathan Drouin and Paul Byron back, they lose another key member to the team.
Claude Julien broke the news at the team's media scrum, saying that it's a lower-body injury that will keep Weber out of the lineup. Apparently, there is swelling involved, and the team doesn't know how serious the injury is. However, with the Habs placing the team captain on the injured-reserve, we know that he'll be out for at least a week.
Weber has been having a phenomenal season with 13 goals and 21 assists in 55 games. Of all the negativity that's happened this year as far as individual performance goes, the 34-year-old is a bright spot. He hasn't let his age deter him from playing the right way and has done his best to stabilize the blueline.
Unfortunately, the Montreal Canadiens haven't been able to escape injuries, and Shea Weber is the latest victim.
From a clip via Here's Your Replay on Twitter, it looks as if Shea Weber blocking a Wayne Simmond's shot in the third period was the culprit.
Weber being out of the lineup, puts the ball in Jeff Petry's court. Petry was relied upon heavily during the 2017-18 season after the team shut Weber down with a lower-body injury. He had his best offensive year with 12 goals and 30 assists in 42 games. It was an even split between even-strength and power-play production leading into another improved season the year after (46 points in 82 games).
It's not only Weber who will be out of the lineup. Claude Julien also said that Jordan Weal would be out as well, which could mean a jump in the lineup for someone else.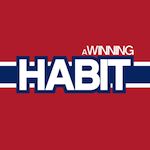 Want your voice heard? Join the A Winning Habit team!
Write for us!
An already frustrating and troubling season for the Montreal Canadiens got bumped up to another degree. Not to mention the fact that Tomas Tatar and Ryan Poehling are both questionable for the Anaheim Ducks game.